At present, the grade of raw tungsten ore in the world is decreasing year by year. There are less and less easy-to-mining wolframite, while refractory scheelite and wolframite -scheelite intergrowth ore gradually occupy the main position. Therefore, the mineral processing industry strengthens the research on tungsten ore processing technology, and customizes the ideal tungsten ore processing equipment according to the different characteristics of scheelite, wolframite, wolframite - scheelite intergrowth ore, strives to improve the processing efficiency and reduce the production costs.
Scheelite - Flotation process, gravity separation process
back to top
1. Scheelite flotation process:
Scheelite is often associated with sulfide ore, especially the molybdenite. In the scheelite flotation process, sulfide ore is usually floated first, and then scheelite. The scheelite flotation process is carried out in alkaline medium. Sodium carbonate and sodium hydroxide are used to adjust the pH value of the pulp to 9-10.5. Common inhibitors used in scheelite flotation process are sodium silicate, tannin and various phosphates. The common collectors are oleic acid, sodium oleate, taroil, oxidized paraffin soap, etc, which is equipped with foaming properties. So,it is not necessary to add foaming agent.
Scheelite has a good floatability, and there are many calcium-containing gangue minerals that have similar property to scheelite, such as calcite, fluorite, apatite, etc, which make the flotation process more complex. In order to improve the selectivity of flotation process, add multivalent metal salts (such as ferrous sulfate) to sodium silicate, which can significantly improve the flotation effect of scheelite.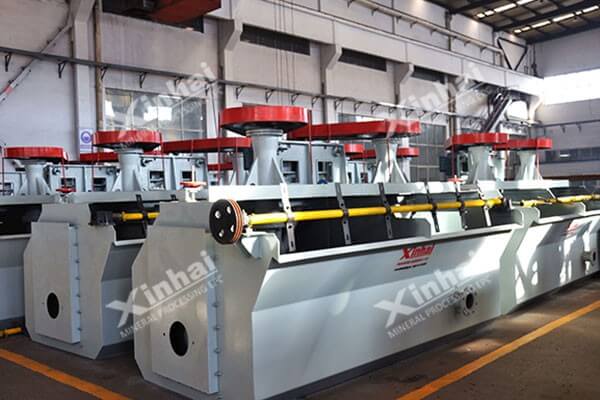 2. Scheelite gravity separation process
According to the ore leaching characteristics, scheelite can be extracted by combination process of gravity separation and flotation process, or single flotation process.
Sometimes, pre-enrichment method is also carried out individually. 50% waste rock is selected from the raw ore by using ultraviolet fluorescence sorting machine, whose grade is lower than the tailings discharged by the mineral processing plant, and the recovery rate of scheelite reaches 90~96%.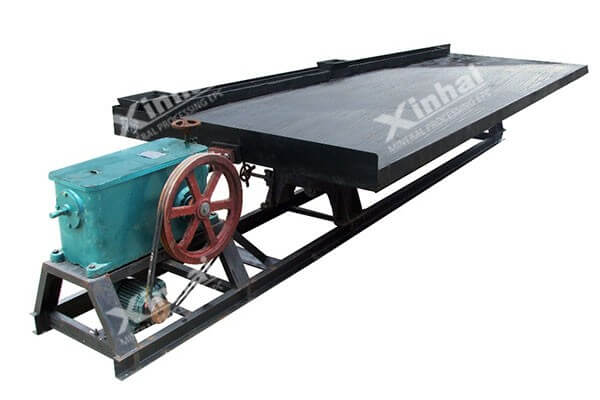 Coarse scheelite - Gravity separation-flotation combined process
back to top
Coarse scheelite: Gravity separation-flotation combined process
Key: Obtain the tungsten concentrate with high recovery and high quality
Process:
In coarse grinding stage, add xanthophyll collector to float various sulfides first;
In the gravity separation stage, adopt the shaking table to get some or all qualified tungsten concentrate.
For the tailings after the gravity separation stage, float the scheelite with oleic acid collector, and get 10%-25% gross concentrate, which is sent to wet metallurgical processing.
Equipment:
Grid Type Ball Mill, Vibrating Screen, 6S Shaking Table, XCF Flotation Cell
Fine-grained scheelite - Flotation process
back to top
Fine-grained scheelite: Flotation process
Key: Roughing stage and concentrating stage
Roughing stage --- Maximize the grade of the coarse concentrate;
Concentrating stage --- Separate the calcium gangue minerals from scheelite to obtain the qualified tungsten concentrate.
Process:
Use the sodium sulfide, cyanide and chromate to inhibit the associated sulfide minerals, and adopt the sodiumsilicate, tannin, sodium polyphosphate, chromate to inhibit the gangue minerals.Then, use the sodium silicate or sodium carbonate to adjust the pH value of the pulp to 9.5-10, and 11-12 for cleaning stage.
"Lime – flotation" process. Mix the pulp with the lime, then adds the sodium carbonate and sodium silicate,finally collects by the oleic acid and naphthenic acid.
Adopt sodium silicate heating method, which means adding a certain amount of sodium silicate to low-grade coarse concentrate, heating up, cooking, stirring, dehydration and slurry mixing, then concentrating repeatedly. Finally, the high-grade tungsten concentrate can be obtained.
Equipment:
Energy-Saving Overflow Ball Mill, SF Flotation Cell, JJF Flotation Cell, High Efficiency Agitation Tank
Wolframite - Gravity separation
back to top
Key: Using the jig to recover early, and shaking table to discard tailings
Process:
1. Roughing:
In the first stage of fine-grained roughing, adopt jig to separate, then directly enter into the concentrating stage.
2. Gravity separation:
Adopt multi-stage jigging, multi-stage shaking table, middling regrinding and gravity separation process.
That is, the jigging gross sand is produced when the qualified ore is sent to multi-stage jigging after the vibrating screen. The coarse-grained jig tailings are sent to grinding mill for re-grinding,and the fine-grained jig tailings enter into multi-stage shaking table after the classifier, then the shaking table gross sand is produced. The shaking table tailings are sent to the tailings pond, and the middlings are returned for regrinding and re-separating, and the gross sand of jig and shaking table is sent to concentrating stage.
3. Concentrating:
Adopt flotation-gravity separation combined process or flotation-gravity separation-magnetic separation combined process,and recover the associated elements in the concentrating stage.Through the coarse and fine-grained table flotation (flotation -shaking table combined method) and flotation to remove the sulphide ore, the sulphide ore of table flotation and flotation merges into the sulfide ore flotation separation. And the wolframite after table flotation and flotation becomes the wolframite concentrate by the gravity separation process. If there are scheelite and cassiterite in the wolframite concentrate, gravity separation-flotation or gravity separation-flotation-magnetic separation combined process can be adopted to separate wolframite concentrate, scheelite concentrate and tin concentrate.
4. Fine sludge treatment:
Usually carry out desulfurization first, and then adopt gravity separation,flotation, magnetic separation, electric separation or combined process to recycle the tungsten ore according to the properties of fine sludge, and utilize the associated metal minerals at the same time.
Equipment:
Round Vibrating Screen(YA), 6S Shaking Table, Jig, BF Flotation Cell
Wolframite-scheelite intergrowth ore - Strong magnetic separation process, flotation process
back to top
For the wolframite - scheelite intergrowthore, especially the fine-grained wolframite - scheelite intergrowth polymetallicore, usually adopt the bulk flotation process.
Key: Separate the scheelite and wolframitefrom the symbiotic polymetallic ores
Process:
1. Bulk flotation of sulfide ore - bulk flotation of wolframite and scheelite heating and separation of scheelite - strong magnetic separation of scheelite tailings - gravityseparation of wolframite;
2. Bulk flotation of sulfide ore - strong magnetic separation to separate wolframite and scheelite - scheelite flotation- wolframite flotation.
Equipment:
Spiral Classifier, Magnetic Separator, SF Flotation Cell, BF Flotation Cell
Tungsten Ore - Chemical mineral process
back to top
Chemical mineral process is mainly used to treat low-grade tungsten concentrate and medium tungsten ore. This process is featured with high recovery rate and high added value of final product. So, chemical mineral process is suitable for fine grained disseminated refractory ore.
Classic cases of tungsten ore processing project
back to top
Jiangxi 500tpd wolframite mineral processing EPC+M+O project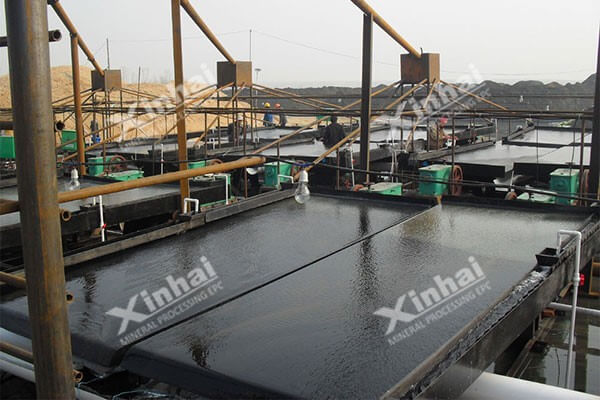 Ore property: uneven distribution of mineral dissemination particle sizes, and serious mineral mud.
Xinhai solution:
Before: The original plant adopted crushing pre - separation-gravity separation-concentrating process, which resulted in the loss of a large amount of fine-grained tungsten minerals, high mineral processing cost and poor mineral processing indexes.
After: After making the careful research on the ore properties and processing technology, Xinhai decided to optimize the wolframite process, add fine slime processing technology, and finally get the better mineral processing indexes.
Project result:
| | | |
| --- | --- | --- |
| Before and after modification | Concentrate Grade β/% | Concentrate Recovery Rate γ/% |
| Before modification | 65.02% | 85.25% |
| After modification | 69.22% | 87.34% |
After the modification, the recovery of fine-grained wolframite was strengthened obviously, and the influence of fine slime on the wolframite separation was reduced, which obviously improved the recovery indexes and the economic benefit of the plant.
2. Mongolia 500 tpd Tungsten gravity separation project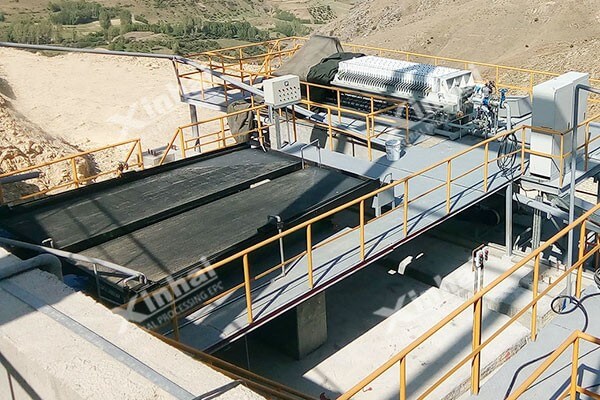 Ore characteristic: W2O3 in the ores, the mean third oxidation content of tungsten is 0.2-2.6%
Xinhai solution: Process flow of two stages of close circuit crushing-grinding and classification-gravity separation-tailing dewatering.
Project result: The tungsten grade of the first-grade tungsten concentrate in this project is 65.3%, and the recovery rate is 72.74%.the second-grade of tungsten concentrate is 15.3%, and the recovery rate is 5.03%. Finally the project reached designed size, with annual revenue $15.02 million, annual profit over $7 million. The clients were very satisfied with the mineral process index and economic effect.
3. Mongolia 150 tpd tungsten processing EPC+M+O project
Ore characteristic: Tungsten is main ore.The grade of tungsten is around 7%. The particles over 1 mm contain more undissociated tungsten minerals and the fine mud contains a small amount of tungsten minerals.

Xinhai solution: Process flow of one stage open circuit crushing- one block close circuit grinding- gravity separation - tailings dewatering.

Project result:

In the workshop design, the gravity flow layout is completed by making full use of the difference of topography, at the same make the industrial plant as compact as possible, keep warm, facilitate winter production. Gravity separation adopts spiral chute, which effectively reduced spaces of equipment and also increasing tungsten recovery rate by tailings scavenging. Grinding adopts 110 kw wet rob mill, guaranteeing the best dissociative granularity(-1 mm) and at the same time avoiding over-grinding. Besides, hydrocyclone and concentrating table are added and highly increasing tungsten recovery rate in fine mud slurry.