Manganese is widely distributed in nature,contained in nearly all ores and silicate rocks. In modern industry, manganese and its compounds are used in various fields of the national economy. Among them, the steel industry is the most important field, accounting for 90% to 95% of manganese, mainly used as a deoxidizer and desulfurizer in iron making and steel making to make alloys. The remaining 10% ~ 5% manganese is used in other industrial fields, such as chemical industry (for manufacturing various kinds of manganese salts), light industry (used in batteries, matches, printing paint, soap making, etc.), building materials industry (used as the colorant and discolorant for glass and ceramics), national defense industry, electronics industry, environmental protection, agriculture and animal husbandry, etc. In a word, manganese has a very important strategic position in national economy.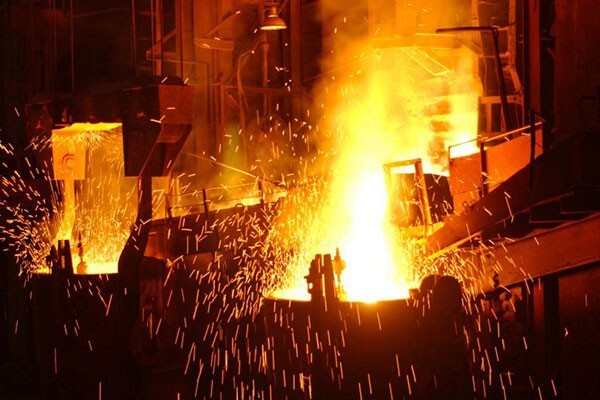 Manganese Ore Types
back to top
The most common type of manganese ore includes manganese oxide and manganese carbonate.
Manganese oxide:
When it comes to manganese oxide ore, dominated by secondary manganese oxide ore from mineral deposit by weathering process, there are primary and secondary manganese oxide ore from certain sedimentary and hydrothermal deposits. The manganese minerals in the ore are mainly psilomelane, pyrolusite and manganite; while the gangue is mainly silicate minerals and carbonate minerals, often accompanied by iron,phosphorus, nickel and cobalt.
Manganese carbonate:
The main manganese minerals in sedimentary manganese carbonate ore are rhodochrosite, calcium rhodochrosite, manganese-containing calcite and rhodochrosite; gangue includes silicate and carbonate minerals, often accompanied by impurities such as sulfur and iron. The ore is generally more complicated, and the disseminated grain size of manganese mineral is fine to micron, which is difficult to dissociate, so it is often difficult to obtain a higher concentrate grade.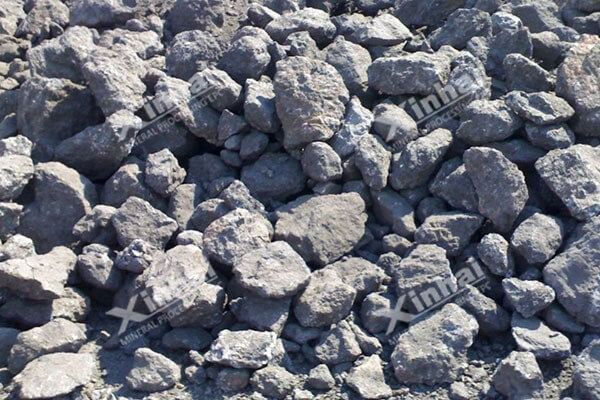 Common Manganese Separation Processes
back to top
Since most manganese ore is of fine-grained or micro-fine grained dissemination, and there are a considerable number of high-phosphorus ore, high-iron ore and paragenic (associated) beneficial metals, it is very difficult for separation.
At present, the common manganese separation processes including mechanical beneficiation, pyrogenic enrichment process,chemical separation process and so on. The manganese mechanical separation process contains washing, screening, gravity separation, strong magnetic separation and combined beneficiation process.
Among them, the ore separation method of manganese oxide ore is mainly gravity separation process. Weathered manganese oxide ore often contains a large amount of slime and fine ore, and the washing and gravity separation method is adopted in production. The raw ore is washed and the slime is removed, after which some of the obtained ore can be used as a finished ore,and some need to be re-selected by jiggers and shaking tables. The manganese washing overflows sometimes require further recovery by gravity separation or strong magnetic separation. Some sedimentary primary manganese oxide ore often adopt heavy medium separation and jigging gravity separation to remove the gangue for the sake of lumpish concentrate due to the depletion of mining.
The iron mineral among the iron-containing manganese oxide ores is mainly limonite. It's difficult to separate iron and manganese by gravity separation, flotation or strong magnetic separation process, and reduction calcination magnetic separation method is required. The washing-reduction calcination magnetic separation and gravity separation process has been employed in the industry.
There is few manganese carbonate separation practice in production, and methods such as strong magnetic separation, heavy-medium beneficiation and flotation process are studied. For some sedimentary sulphur-containing manganese carbonate ore, concentrators often use the preferential flotation process of carbon shale, pyrite and manganese minerals. For some hydrothermal lead-containing zinc manganese carbonate ore, flotation and strong magnetic separation process is used. For some sulfur-rich manganese ore, calcination is used to remove sulphur since the manganese mineral centers in manganese blende. Some manganese carbonate ore also uses calcination to remove volatile components and obtain the finished ore.
Both manganese oxide and manganese carbonate ore contain some refractory ore. Manganese is closely symbiotic with iron, phosphorus or gangue. The disseminated grain size is extremely fine and manganese ore is hard for separation. Under such condition, smelting method maybe a better separation method.
Manganese Ore Washing and Screening
back to top
Washing is the process of treating muddy ore that is cemented with clay. The principle is that under the combined action of hydraulic, mechanical and self-friction, the clay entrained or attached to the surface of the ore is crushed and dispersed, so as to separate the ore and the mud, thereby improving the grade of the ore. The factors affecting the washing effect are mainly the physical properties of clay, the type of ore and the strength and time of mechanical force. Washing is an indispensable process for manganese ore, iron ore, limestone, especially for manganese ore deposits formed by sweathering, leaching, transportation, and enrichment in the third-quaternary oxidation zone.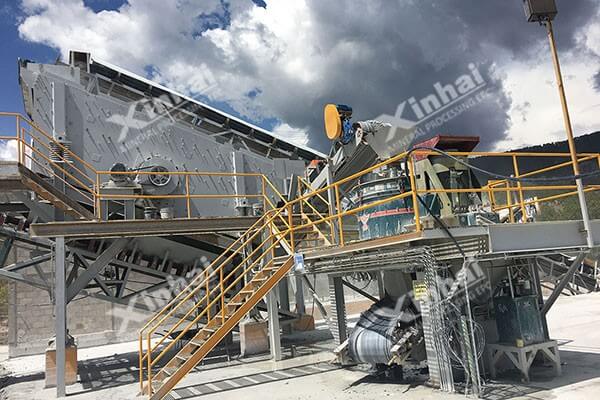 For manganese ore separation process, washing operations are often accompanied by screening operations. For example, wash the manganese ore directly with water on the vibrating screen or send the clean ore processed by a washing machine to screening machine for screening operation. Screening can be used as a independent operation to separate products of different sizes and grades for different uses.
The primary manganese oxide ore and manganese carbonate ore have lower mud content, and the cementation degree of mud and ore are weaker. Generally, they are easy to wash. The common separation process is to use vibrating screen for washing and the under size product is sent to spiral classifier for deslime and classification.
Stacked manganese oxide ore and other weathered manganese oxide ore (manganese cap type manganese oxide ore and soft manganese)are moderately washable ores with high mud content (such as the muddy rate of stacked manganese ore can be as high as 70%-80%) , sometimes containing viscous mud pie. Therefore, this kind of manganese ore can't completely separated with a simple hydraulic washing method. Instead, cylindrical washing machine with mechanical scrubbing function, self-grinding machine or spiral tank washer should be used.
The products of washing are mineral sand and slime.The former is called clean ore and is the final product for washing that can be used for further processing or directly as concentrate. When the manganese content of the slime is low, it can be discarded as tailings, but when the manganese-containing grade is still high, manganese minerals need to be further recovered.
Gravity Separation Process
back to top
Gravity separation process is a beneficiation method according to the difference in density of minerals, whose process can be carried out in a medium such as water or air. The density of common manganese oxide minerals ranges from 3,700 to 5,000 kg/m3, the density of manganese carbonate minerals ranges from 3,300 to 3,800 kg/m3, and the density of gangue minerals ranges from 2,600 to 2,900 kg/m3. The grain size of manganese minerals is generally fine and closely symbiotic with fine gangue minerals, so it is difficult to separate single minerals by mechanical beneficiation methods. But manganese minerals are aggregated into aggregates with particle sizes ranging from 0.1 mm to several millimeters. Due to the density of manganese minerals is quite different from the density of gangue minerals, the gravity separation process is suitable for the separation of manganese ore with simple structure and coarse grain size, especially for manganese oxide ore with higher density. Commonly used gravity separation methods include heavy medium separation process, jigging and shaking table separation process.
Heavy medium separation process:
Generally used as preliminary selection, heavy medium dressing method is suitable for the separation of manganese carbonate ore and manganese oxide ore, especially the separation of manganese carbonate ore, because its difference between density and gangue are small, it's hard to use other gravity separation methods for separation.
Advantages: wide range of feeding grain size (75 ~2 mm), high separation precision;
Disadvantages: The heavy medium recovery system is complex and the operation requirements are strict.
Jigging separation process:
This kind of separation method often used to process manganese oxide ore, and its ore size ranges from 30 to 1 mm.
Advantages: high productivity, low equipment investment and low operation costs.
Shaking table separation process:
It is mainly used to treat fine-grain manganese oxide ore below 3 mm.
Advantages: high separation efficiency and simple operation;
Disadvantages: low processing capacity and large floor space.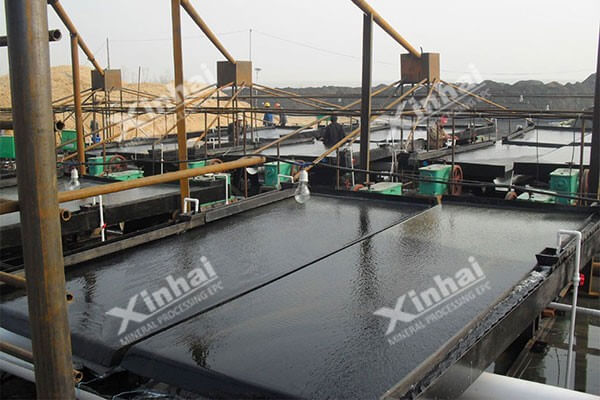 At present, the process of separate manganese oxide ore is generally to crush the ore to 6 ~ 0 mm or 10 ~ 0 mm, and then classified into different sizes, during which coarse grade particles is for jig separation and fine grade particles sent to the shaking table for separation.
Strong Magnetic Separation Process
back to top
Manganese mineral is a weak magnetic mineral(specific susceptibility X=10×10-6~600×10-6 cm3/g), which can be recovered in a strong magnetic separator with magnetic field strength Ho=800~1600 kA/m (10000~20000 oe). In general, the manganese grade can be improved by 4% to 10%. The specific susceptibility of common manganese oxide minerals is between (3 ~ 15) x 10-7 m3/kg; manganese carbonate minerals are (13.1~16.9) x 10-7 m3/kg; and gangue minerals (quartz, calcite, etc.) are (2.5) ~125) x 10-9 m3/kg. Therefore, the magnetic properties of manganese minerals are about 10 times or more to the magnetic properties of gangue minerals, so the strong magnetic separation method is easy to separate them.
Because the magnetic separation method has a series of merits like simple operation, easy control, and strong adaptability, it is widely used in the separation of various manganese ores. In recent years, magnetic separation method has occupied an important position in manganese ore dressing, and various new types of magnetic machines suitable for coarse, media and fine particles are successfully developed. At present, the most common one for manganese ore is the medium-grain strong magnetic separator, and the coarse-grained and fine-grained magnetic separators are gradually applied.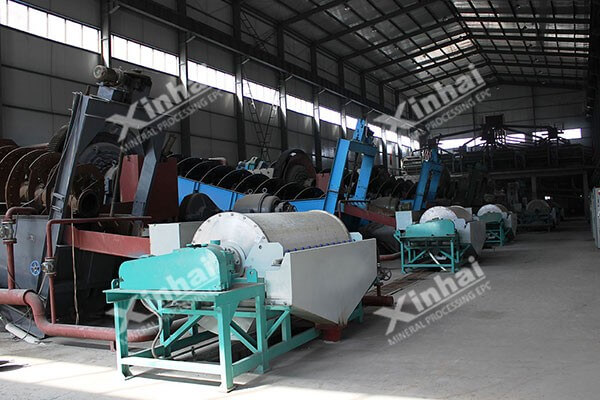 Magnetic Separation-Flotation/Gravity Separation-Flotation Process
back to top
Due to its complex composition, manganese minerals are closely symbiotic with gangue minerals, and are easy to argillation. The flotation process is difficult to separate manganese and gangue, and the consumption of chemicals is large, so the separation cost is high. Generally,it is preferred to use a magnetic-separation process or gravity-separation combined process, namely, first discarding part of the gangue and slime by magnetic separation or gravity separation, and then conducting flotation for concentration.
The strong magnetic separation-flotation combined process has better adaptability, and the strong magnetic separator not only effectively removes the slime, but also improves the recovery and grade of flotation concentrate. The integrated manganese concentrate product can be directly obtained by strong magnetic separation-flotation desulfurization process; using oxidized paraffin wax soap to replace sodium petroleum sulfonate as flotation collector, the slurry is sorted at neutral and normal temperature, saving the chemical consumption and energy consumption, and improving the dewatering performance of concentrate.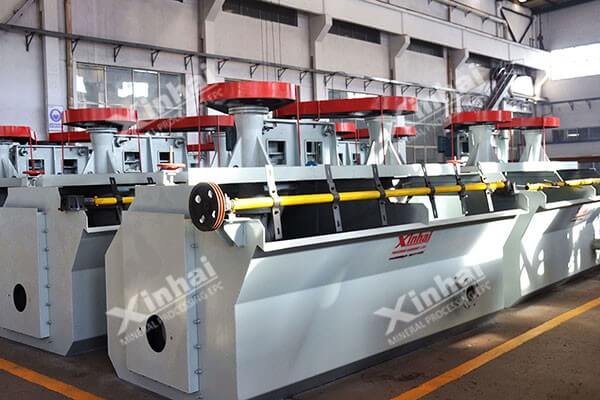 The gravity-magnetic separation method is to feed the manganese ore of qualified particle size into the magnetic separator for weak magnetic separation, to obtain strong magnetic manganese concentrate and weak magnetic separation tailings, and then the tailings are fed into the magnetic separator for strong magnetic separation to get strong magnetic separation tailings and concentrate. After that, the concentrate will be send to the gravity separation machine for beneficiation, with gravity separation manganese concentrate and tailings obtained.
The selectivity of flotation process is higher than other beneficiation methods, and it is often used to separate fine-grained and micro-fine grained manganese minerals and gangue minerals. Among the various manganese minerals, rhodochrosite has the best floatability, followed by pyrolusite and psilomelane, and other manganese minerals, especially ouatite, have the worst floatability. The flotation of manganese ore can be used as an independent operation to produce concentrates and discard tailings; it can also be used as one of the operations in the beneficiation joint process.
The flotation process is divided into positive flotation and reverse flotation. At present, industrial production mostly uses anionic collector positive flotation method, and anionic collector reverse flotation and cationic collector reverse flotation are rarely applied.
Leaching Process
back to top
Usually, manganese ore leaching process includes direct leaching, roasting leaching and biological leaching. Among them, the direct leaching method also includes disulphate method, sulfur dioxide method, ferrous sulfate method and so on.
Take the sulfur dioxide leaching method as an example, and the sulfur dioxide gas is injected to the manganese ore slurry, so the manganese oxide in the ore is transformed into MnSO4 and MnS2O6. Adding lime milk to the filtrate, which can produce manganese hydroxide precipitation and then obtain solid manganese hydroxide after filtration process. This method is suitable for the manganese oxide ore with low grade and micro-grain.
Calcination and Pyrogenic Enrichment Process
back to top
Manganese minerals in nature often coexist with iron minerals. Conventional ore dressing methods are not easy to separate manganese and iron. The calcination process is a more effective method to achieve separation of iron. The purpose of manganese ore calcination process is: First, the high-priced manganese oxide is reduced to low-priced manganese oxide, which facilitates the dissolution of manganese into an ionic state during wet leaching process; Second, the weak magnetic iron minerals is reduced into ferromagnetic magnetite or maghemite (γ-Fe203), thereby achieving manganese and iron separation and increasing the ratio of manganese to iron. Generally, calcination is divided into three types: reduction calcination, neutral calcination and oxidative calcination. The main equipment for manganese ore calcination is reverberatory furnace, shaft furnace, rotary kiln and boiling furnace.
The pyrogenic process for manganese ore, also called manganese-rich slag method, is an effective separation process for high-phosphorus and high-iron refractory low-grade manganese ore. The essence is a high-temperature dressing method for selectively separating manganese, phosphorus and iron by controlling their temperatures in blast furnace or anelectric furnace, since the reduction temperatures of manganese, phosphorus andiron is different. The pyrogenic process is suitable for low-grade manganese ore or ferromanganese ore that is hard to be processed by conventional separation method and can't be directly smelted into ferroalloy. The purpose is to remove iron and phosphorus from manganese. The pyrogenic process has merits like simple process and stable production, which can effectively separate iron and phosphorus from manganese ore to obtain low-iron, low-phosphorus manganese-rich slag. The manganese-rich slag generally contains Mn 35-45%. Mn/Fe 12-38,P/Mn<0.002, is a high-quality manganese-based alloy raw material, and it is also an artificial high-grade ore that is superior to natural manganese-enriched ores over the above three indexes. Therefore, the pyrogenic process is a promising mineral processing method in China for high-phosphorus high-iron and low-manganese refractory ore.
Manganese Separation Process Development
back to top
In the past 30 years, China's manganese ore separation technology has made great progress in scientific research and production. The mineral processing technology has become more and more perfect, economic and technical indicators have been improved, and the quantity and quality of manganese concentrate products produced have increased year by year, making contribution to the development of the national economy. At the same time, China has seen accumulated valuable experience in manganese ore production. Due to the low grade, high impurity, complex ore structure and fine grain size of the manganese ore in China, it is still a long-term technical policy for the manganese industry in China to achieve "Getting Higher Grade" through mineral processing. The development direction of manganese ore separation process in China is mainly in the following aspects:
(1) Research on manganese process mineralogy and separation process. Continue to study the process mineralogy and improve the beneficiation process to solve the separation and refractory problem of fine-grained manganese ore.
(2) Research on washing, screening, gravity separation process and equipment. Washing, screening and gravity separation process are relatively old methods for mineral processing. Apart from low investment costs and low operation costs, they are also effective separation methods. It is an important research direction to improving the separation efficiency and recovery rate through process optimization and new high-efficiency equipment research.
(3) Development and application of a new magnetic separator. Strong magnetic separation for the pre-selection of low grade manganese ore has shown its superiority in separating manganese-rich aggregates and making a remarkable result in getting higher grade manganese. Besides, strong magnetic separation process has other merits including low production costs,simple process and operation. Since the magnetic separation process and equipment are widely used in manganese ore beneficiation, the progress of manganese ore beneficiation technology has been promoted, and it is still the key development direction of manganese ore beneficiation, especially the magnetic separation process and equipment of fine particles and micro-fine particles.
(4) Research on flotation process and development of new high-efficiency flotation reagents. In view of the characteristics of micro-particles embedded in manganese ore, it is also one of the important research directions of manganese ore beneficiation to carry out in-depth research and application of flotation technology, further improve the metal recovery rate, and maximize the utilization of resources.
(5) Beneficiation and smelting combined process. For low grade manganese ore with low iron and high phosphorus and multi-metal symbiosis, etc., it is difficult to achieve satisfactory separation effect by single ore dressing or metallurgical process. As the most effective and economical method for sorting difficult manganese ore, the beneficiation and smelting combined process is an important direction of development.
Typical Manganese Ore Separation Project
back to top
2000TPD Silver and Manganese Separation Project in Inner Mongolia, China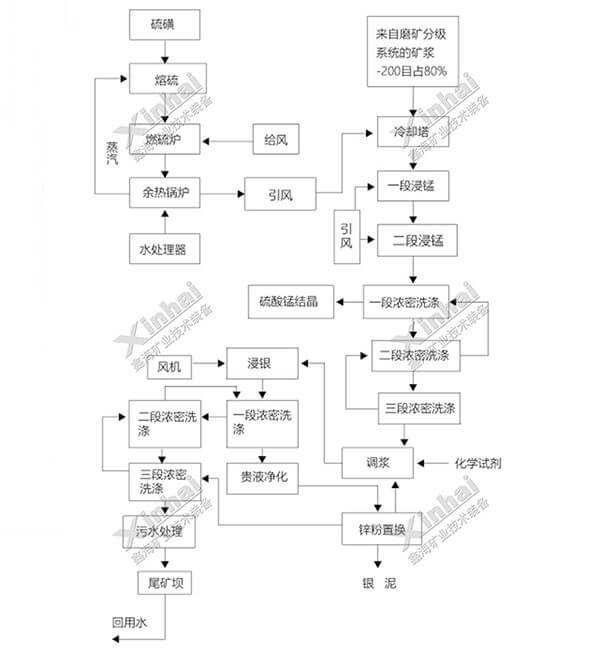 Project Overview:
Due to the property change of the ore for separation, the single flotation process the beneficiation plant originally adopted cannot fully adapt to this change, resulting in a flotation recovery rate of less than 30%, and the plant is in a state of loss. The customer entrusted Xinhai Mining to carry out new construction and renovation. In order to improve labor productivity and economic benefits, Xinhai Mining introduced new equipment and new processes, and built the separation plant making full use of topographic conditions, greatly saving investment of the whole separation plant.
Xinhai Solution:
In the separation stage, the wet method of "SO2 manganese leaching+ silver cyanidation" was used. In the smelting stage, "silver mud-pyrometallurgy method -silver alloy-silver electrolytic smelting process" was adopted. In the end, the total recovery rate of manganese and silver all reached more than 80%.