Feldspar is one of the most important materials used in glass, ceramics and grinding. It is a common aluminosilicate mineral. The main components are silica, alumina, potassium oxide, sodium oxide, calcium oxide and so on. The resources of feldspar are abundant, but high-quality resources are gradually decreasing. The development and utilization of medium and low-grade feldspar has become the focus of recent development.
Feldspar can be divided into potassium feldspar, albite, alkali feldspar and so on according to the composition of the elements. Since pure feldspar hardly exists in nature,the feldspar minerals containing potassium feldspar and albite are called alkali feldspar, and the minerals containing albite and calcium feldspar are called plagioclase. In this paper, we will briefly describe the key points of the feldspar beneficiation process and the beneficiation process.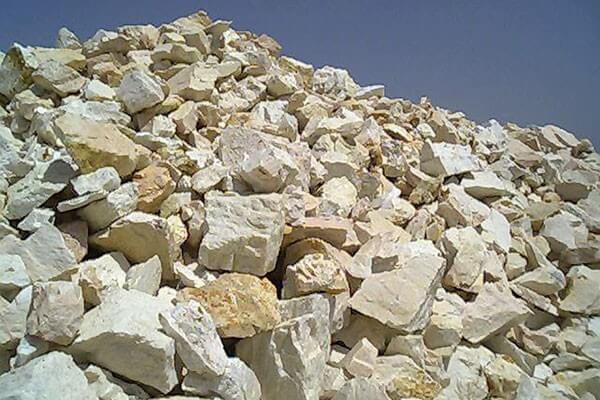 Feldspar Ore Processing Process
back to top
The feldspar beneficiation process is different according to the type of feldspar and rock.
Normally, high-quality feldspar is produced from pegmatite with low impurity content. It is usually processed by picking-crushing-water milling process. But the product quality can't meet the production needs anymore because of inefficiency and small capacity of water mill.
For the feldspar produced in weathered granite, the crushing-grinding-flotation process is usually adopted. The flotation process usually uses multi-stage flotation to remove impurities such as iron, mica and quartz in the ore and separate different types of feldspar.
For feldspar mines produced from aplite, it is generally processed by a crush-grinding-screening-magnetic separation process because of high iron content.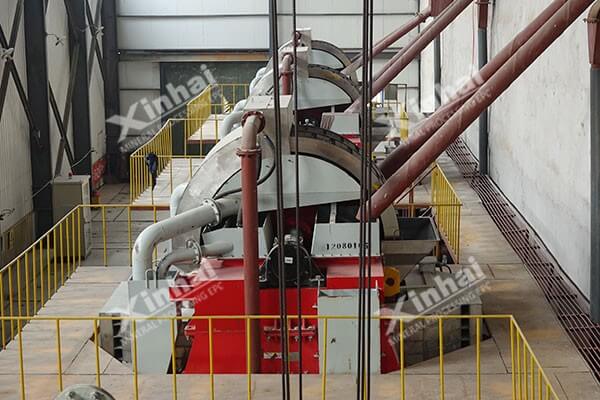 Crushing, Grinding and Classification of Feldspar Processing Solution
back to top
Feldspar ore is relatively soft in nature,which is easy to crush and produce slime. The traditional grinding of feldspar processing is treated by water grinding. However, the disadvantage of water grinding is inefficient and more difficult to meet the production needs.Therefore, the common schemes in the grinding stage of feldspar processing areas follows:
1. It can make the feldspar granularity uniform and efficient to use hammer crusher as feldspar crushing equipment and pendulum grinder as grinding equipment in feldspar processing;
2. Using rod mill and gravel mill as the grinding equipment of feldspar processing can also achieve the effect of uniform particle size;
3. After two stages of crushing, ball mill is used as grinding equipment of feldspar processing. After desliming of cyclone, a small amount of steel balls is added to the ball mill to wipe the sand in feldspar processing, which can strip out the iron mineral contained in the feldspar ore and avoid the over grinding of feldspar.
Iron Removal Process from Feldspar Mineral
back to top
Iron is a kind of common impurity in the feldspar mineral, and the iron content has a great influence on the quality of feldspar concentrate. Therefore, it is very important for the feldspar processing to remove iron. The iron ores contained in the feldspar mineral mainly include limonite, hematite, mica, ilmanite, etc. because they are various in nature and structure, the iron removal methods are different. The common iron removal methods are washing method, magnetic separation method,and combined method.
1. Washing method
The washing method is mainly used for decomposed granite and feldspar placer, which can remove the impurities in the feldspar mineral, such as clay, fine mud, mica, thus reducing the content of iron oxide in feldspar ore. Generally, the vibrating screen and sluice box can be used as the washing machine, which are widely applied in the impurity removal from feldspar.
2. Magnetic separation method
The iron ore in feldspar has a certain weak magnetism, so strong magnetic separator can be selected to conduct magnetic separation process. The common magnetic separation equipment used for iron removal from feldspar includes permanent roller-type strong magnetic separator, drum high intensity permanent magnetic separator,high gradient magnetic separator, etc., which has obvious effect on reducing the content of iron impurities in feldspar ore.
3. Flotation iron removal method
Flotation is one of the effective ways to separate feldspar. Flotation method can not only achieve the separation of feldspar and iron impurities, but also can achieve the separation of feldspar and quartz, and improve the concentration of potassium and sodium in the concentrate.
4. Combined iron removal process
It is difficult to remove iron from ores with close symbiosis between iron oxides and feldspar minerals. The separation process of these minerals will add flotation, acid leaching and other processes to further reduce the iron content of the ore
Separation of Feldspar Mineral and Quartz
back to top
The separation of quartz and feldspar is usually treated by flotation process, which can be divided into three types: acid flotation, neutral flotation and alkali flotation process.
1. Acid flotation process
Hydrofluoric acid is the most common method of acid flotation. But hydrofluoric acid will cause pollution to the environment, so fluorine-free flotation is also the focus of future research on mineral processing technology.
Strong acids are commonly used in the separation of feldspar and quartz by fluorine-free flotation. Under the condition of pH 2~3, the mixed collector of anion and anion will give priority to flotation of feldspar. However, this method is relatively rare in use due to the strong acidic conditions that can corrode the equipment.
2. Neutral flotation process
This method is separate quartz and feldspar with zwitterion mixed collector and inhibitor under neutral condition. The common inhibitor is like sodium hexametaphosphate and so on. This method has little influence on environment, but also has a strict agent system. There is few successful cases in production.
3. Alkaline flotation process
This method is reverse flotation quartz under alkaline condition with alkane sulfonate as collector and alkali earth metal ions as activator. Then recollecting quartz aiming at separating quartz and feldspar. For now, this method is only used in laboratory, and there is no cases in industrial production.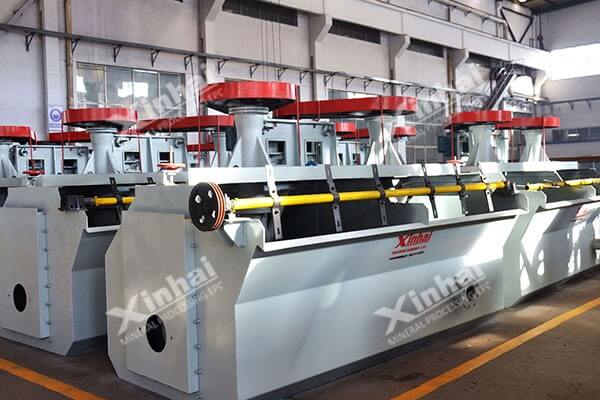 Xinhai Mining - Feldspar Processing Plant
back to top
Shandong 1500tpd Feldspar Processing Plant

This feldspar is one of enterprises with the biggest, the most advanced, and the best effect on resource utilization.The technology is up to international advanced level. The feldspar ores in this processing plant are separated by fine processing technology. Through the Ⅱ, Ⅲ feldspar to gradually removing impurity separation processing, the product has the characteristics of quality pure, high whiteness, and stable quality.
Innovation tailing dry stacking technology and equipment are used in this feldspar processing plant. The tailing dry stacking system, which is consisted with dewatering-thickening hydrocyclone, high-efficiency deep cone thickener, and high-efficiency multi frequency dewatering screen, has a lower investment and construction cost. It is easy to be managed. The water from tailings dry stacking system can return to feldspar processing plant, saving water resources.