Common Gold Extraction Methods
With the rapid development of industry and finance, gold production has been closely watched and rapidly developed. In recent years, new gold extraction methods and new gold extraction equipment have been continuously developed and put into gold production, so that gold extraction effect have been improved. The following will introduce three commonly used gold extraction methods in detail.
1. Gravity Separation Process
Due to the large proportion of gold, the gravity separation process is the most common method used for gold separation, and it is often used in combination with other gold separation technologies to treat all kinds of gold ores. Generally, sand gold is almost always treated by gravity separation process.
In the gravity separation plant, the common gravity separation equipment includes shaking table, jigger machine and spiral chute. Among them, the shaking table can be used for roughing, cleaning and scavenging. Due to the large processing capacity, wide range of particle size, simple operation and maintenance, the sawtooth pulsation jig is widely used in the separation of gold, iron, titanium, tungsten, manganese and other metal minerals.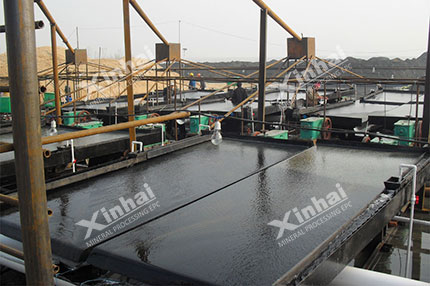 2. Gold Cyanidation Process
Gold cyanidation process is one of the main gold extraction method, which has the advantages of high recovery rate, strong adaptability to ore. Cyanide leaching of gold can be divided into tank leaching (agitation leaching) and heap leaching (percolation leaching).
1)
Tank leaching Process
The slurry after the grinding and classification is adjusted to the appropriate concentration by the thickening and dehydration, then the cyanide solution is added to stir and then inflated for leaching.

2) Heap leaching Process
The low-grade ores containing gold are stacked on the impermeable bottom pad, and the gold is dissolved by spraying low concentration alkaline cyanide solution on the ore heap, and the solution containing gold is leached from the ore heap, then the gold is recovered by adsorption of activated carbon or zinc dust replacement precipitation.
Heap spraying is divided into water spray and drip spray two forms. Water spraying is usually a spray head that sends the solution from the piping system through the nozzle into the air, causing the effect of rain to fall on the surface of the mine heap.
3. Froth

Flotation Process
Froth flotation process is widely used to process various pulpy ores, especially the high floatability sulfide ore containing gold ore.

Gold can be enriched to the maximum extent in sulphide mineral concentrate by flotation method, so that the tailings can be discarded as soon as possible and the processing cost can be reduced. In addition, froth flotation process is often used to process polymetallic ores, which can realize the efficient comprehensive utilization of mineral resources.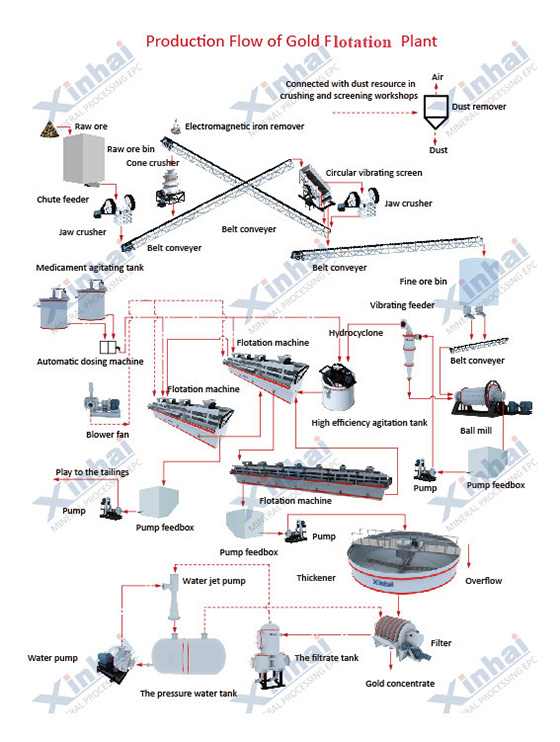 Conclusion
In actual production, we often need to determine the best gold extraction method based on ore dressing experiments, a single gravity separation process, cyanidation process and froth flotation process, or a combination process composed of different gold extraction processes.
Last: What Factors Should be Considered in Choosing Grinding Machine?