What Are The Gravity Separation Methods Used To Process Gold I?
Gravity separation is one of the common methods for gold extraction, which uses different specific gravity of materials and different settlement velocity in the medium to carry out stratified separation. Generally, when gold mostly exists in the form of monomer natural gold, the density difference between gold and gangue is large, it is more effective and economical for gold separation.

In most gold-bearing rocks, there is some free gold of coarse particles, and the gold of coarse particles can be recovered by gravity separation before the ore enters the flotation or leaching stage. Generally, the particle size of gold ore recovered by gravity separation is above 0.01mm.
There are various gravity separation methods that can be used for gold extraction, such as jigging gravity separation, shaking table gravity separation, chute gravity separation, spiral g gravity separation, centrifugal gravity separation and wind power gravity separation, etc. The commonly used gravity separation methods for gold processing are jigging separation, shaking table dressing and chute ore dressing.
1. Jigging Separation
The working principle of jigging separation is to mix mineral particles with different specific gravity, and stratify them according to specific gravity in the vertically moving variable speed medium flow. The minerals with small specific gravity are located at the upper layer, while the minerals with larger specific gravity are located at the lower layer. The materials with good layering quality are discharged respectively under the action of machinery and water flow.
Jigger is the main gravity equipment used for gold extraction in jigging separation.
In addition to very fine materials, jigging beneficiation can process almost all kinds of raw materials of various sizes. The process is simple in operation and the processing capacity of the equipment is large. Under the premise that the specific gravity difference is ≥1.25 and the ore monomers are dissociated, the lower limit of the gold particle size of the jig can be up to 0.04mm.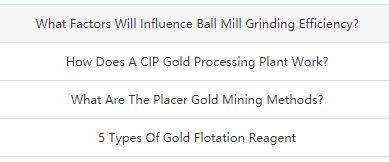 2.

Shaking Table Dressing
The working principle of shaking table is stratifying gold according to specific gravity and particle size under the action of gravity, lateral flow impulse, and inertial and frictional forces generated by the reciprocating asymmetrical movement of the bed surface. The ore particles with different specific gravity and particle size gradually fan down along their respective movement directions, and are discharged from different areas of the concentrate end and tailings side of the shaker, and are finally divided into concentrate, medium ore and tailings.
Shaking table is suitable for processing a finer granularity. When shaking table is working, according to the different particle size of ore, Shaker surface can be divided into 3 types, coarse sand bed, sand bed and slurry bed. Coarse sand bed is suitable for sorting material particle size small and 0.5 mm of ore grain; Sand bed is suitable for processing ore with 0.5 ~0.074 mm, slurry bed suitable for processing ore with 0.074~ 0.037 mm.
Shaking table is a common equipment for sorting fine-grained ore. When processing metal ore, the effective size range is 3 ~ 0.019mm. The process is stable and reliable, the distribution of ore belt is clear, the rich ore is higher than other dressing methods. And this way is easy to manage, and the required ore can be separated at one time.
Conclusion

Jigging and shaking table to separate gold are the important and common ways for physics processing in gravity separation. Which one is better for you depends your needs and ore properties. But in practice, we need to do a beneficiation test to choose suitable process for gold. What other gravity separation methods used to process gold, look here.
Last: How Collector Usage Affect Froth Flotation Process
Next: What Are The Gravity Separation Methods Used To Process Gold II?