The Desliming of Hydrocyclone
In this post, we are talking about hydrocyclone which used in desliming.
We are going to introduce 3 aspects about desliming of cyclone.
The advantages of desliming of hydrocyclone

The working principle of desliming of hydrocyclone

The case of desliming hydrocyclone
Let's have a close look!
Hydrocyclone is a high-efficiency classifier which is wildly used in classification, separation, concentration, dewatering, processing and so on. In the production process of some products, the slurry will contain some solid particles with small diameters, which is what we usually call fine mud. Its presence will have a greater impact on product quality and equipment, so it must be desilted.
In desliming operation, hydrocyclone is mainly used in gravity-separation plant or chemistry factory. In mineral processing plant, desliming hydrocyclone is suitable for dealing with slime under 19μm.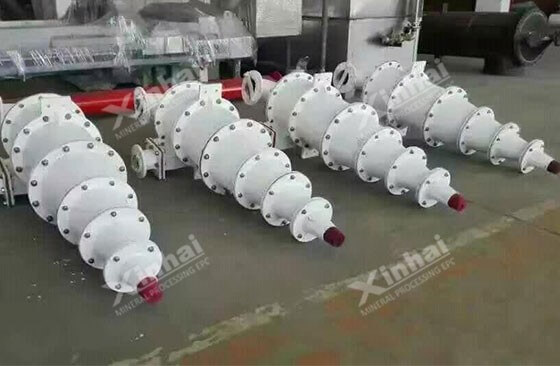 1. The advantages of desliming of hydrocyclone
According to incomplete statistics, the top 50% of the final tailings in the concentrator are discharged by demineralizing hydrocyclone. After recent years of experiment and practice, using hydrocyclone to remove the slime pulp, is feasible in technology and economic, reasonable, its advantage has a lot of:
the separation process is optimized;

the efficiency of classifying get improved;

equipment of the process for subsequent processing get protected;

the service life have improved.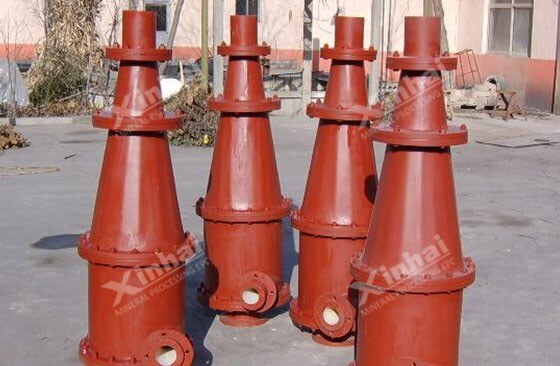 On the whole, the hydrocyclone used in desilting operation improves the recovery rate of ore dressing, especially the recovery rate of ore dressing, reduces the cost of ore dressing and increases the economic benefit.
2.The working principle of desliming of hydrocyclone
Hydrocyclone has become an important equipment to strengthen the treatment of fine mud. It has shown great advantages in mud removal and fine mud classification. Hydrocyclone desilting classification principle and its principle is relatively similar, it is divided into two types of pressure type and gravity type, often using cylindrical metal tube production. The slurry containing slime enters the pipe along the tangent line by pressure or gravity. The coarse particles are thrown near the wall due to the larger centrifugal force. Due to the small centrifugal force and the small sedimentation velocity, the fine particles are trapped in the inner spiral flow and finally discharged through the overflow pipe.
3.The case of desliming hydrocyclone
In a silica sand mine tailings, argillaceous minerals account for 12.7% and fineness-325 mesh accounts for 39.3%. Almost all argillaceous minerals are stored in -325 mesh grade. After the mine owner uses the hydrocyclone to remove the mud, the removal rate of the -325 mesh level has reached 95%, and the removal rate of the argillaceous minerals has reached more than 98.5%.
Conclusion
The separation particle size of the hydrocyclone is related to its diameter, and the diameter is generally smaller when used for desilting operations. If the beneficiation plant uses hydrocyclone for desilting operations, it recomended that mine owner install multiple cyclones in parallel.
Last: What Are the Materials of Impeller Cover of Flotation Cell?