Impact Crusher VS Jaw Crusher:What Are the Differences?
Crusher refers to the equipment that reduces the particle size of material by the action of external force. Jaw crushers and impact crushers are two commonly used crushing equipment. The following will introduce the specific differences between jaw crusher and impact crusher in four aspects. Let's drive in!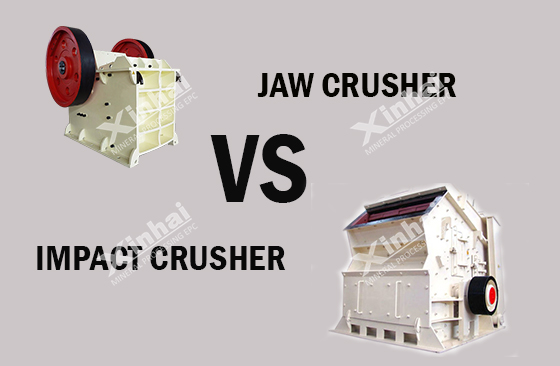 1. Crushers' Structure
(1) Jaw crusher mainly consists frame, eccentric shaft, large pulley, flywheel, movable jaw, side guard plate, toggle plate, toggle plate backseat, adjustable gap screw, reset spring, fixed jaw and movable jaw, in which the toggle plate also plays the role of insurance.
(2) Impact crusher can be divided into two types according to the number of rotors: single-rotor impact crusher and double-rotor impact crusher. The single-rotor impact crusher is mainly composed of rotor, blow bar, impact plate and machine body. The double-rotor impact crusher is mainly composed of the machine body, the first-stage rotor, the first-stage impact plate, split chamber impact plate, the second-level impact plate, adjustable spring, the second stage grid plate, primary drive unit and secondary drive unit.
2. Crushers' Working Principle
(1) Jaw crusher is the crushing equipment that uses two jaw plates to squeeze and bend materials to crush various hardness materials.
The crushing mechanism is composed of fixed jaw and movable jaw. The material is crushed when the two jaws are close to each other, and the material smaller than the discharge gate are discharged from the bottom when the two jaws leave. And its crushing operation is carried out intermittently.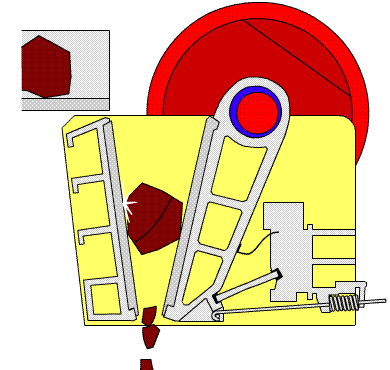 (Working principle of jaw crusher)
(2)Impact crusher uses the motor drive to make the rotor rotate at high speed, the material on the rotor and the blow bar hit and break, and then bounce it onto the impact plate to make it break again.
This process is repeated until the material is broken to the desired particle size and discharged from the outlet.
(Working principle of impact crusher)
3. Crushers' Characteristics
(1) Jaw crusher has the following features: Simple structure, light weight, low price, short appearance, easy maintenance and transportation; Reliable crushing process, convenient adjustment of ore discharge port, and will not be easily blocked when crushing wet ore and ore with much clay. But the lining plate is easy to wear, the processing capacity is low, and the particle size of the crushed product is uneven. When crushing a large amount of large materials, it is required to feed evenly, and the feeding equipment needs to be set.
(2) Impact crusher has the following features: Light weight, small size and large production capacity; Simple structure and easy maintenance; Low power consumption, about 1/3 less electricity than jaw crusher; Uniform particle size of crushed products, high content of fine particles; elective crushing effect, less over-crushing and large crushing ratio. But the blow bar and impact plate are easy to wear and need to be replaced frequently.
4. Crushers' Application

(1) Jaw crusher is widely used in many fields such as mining, smelting, building, highway, railway, waterpower and chemical industry, crushing various materials with compressive strength not exceeding 320 MPa. In metal mines, it is mostly used for coarse and secondary crushing of hard or medium hard ore, and is the first choice for primary crushing.
(2) Impact crusher can handle various coarse, medium and fine materials (granite, limestone, concrete, etc.) with a particle size not exceeding 500mm and a compressive strength not exceeding 350MPa.
Conclusion
Jaw crusher and impact crusher are different in structure, principle, characteristics and application. In actual production, the most suitable crushing equipment should be selected according to factors such as the hardness of the material, particle size, crushing stage, etc. It is best to consult and purchase from a professional equipment manufacturer. In addition to these two kinds of crushers, hammer crushers and cone crushers are also commonly used in mining and building industries. In practice, many kinds of crushing equipment are often used in combination to achieve crushing effect.
Last: What Are Commonly Used Silver Extraction Processes?
Next: Circular Vibrating Screen VS Linear Vibrating Screen: What Are the Differences?