How to Process Fluorite?
The common fluorite beneficiation processes include gravity separation and fluorite flotation process. Gravity separation process can be used for coarse-grained fluorite ore. And fluorite flotation process can be used to process fluorite ore that is associated with impure minerals and the granule of value mineral is so tiny. Fluorite is often associated with quartz, barite, calcite, sulphide and other minerals. Different fluorite flotation processes should be adopted according to different ore properties. The following are the steps of fluorite beneficiation.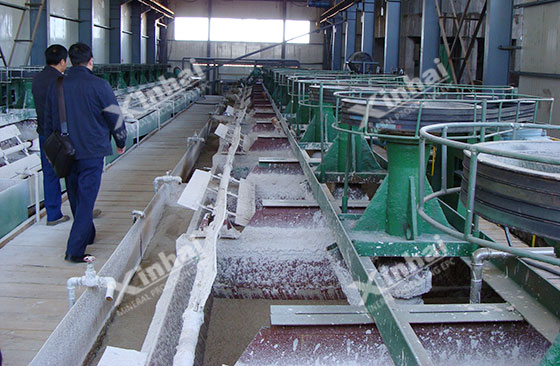 1.

Crushing and Screening
Due to different properties of fluorite ore in different areas, three stage a closed-circuit or three opening crushing process can be used in the crushing stage of fluorite beneficiation process. The crushing machine used in fluorite beneficiation process is shown below.
| | | |
| --- | --- | --- |
| Name | Application | Particle Size(mm) |
| Jaw Crusher | Coarse Crushing | <1250 |
| Standard Cone Crusher | Secondary Crushing | <350 |
| Short-head Cone Crusher | Fine Crushing | <130 |
| Auto Centering Vibrating Screen | Screening | <30 |
2. Grinding
The grinding process often uses two-stage grinding. When fluorite is closely associated with other minerals, one stage grinding usually cannot realize monomer separation between fluorite ore and associated minerals. Therefore, roughing concentrate regrinding is commonly used in refractory fluorite ore dressing process after one stage grinding, which is beneficial to the later separation and improves processing indicators. In recent years, a series of energy-saving ball mills have been successfully produced , which were widely used in many upgrading mineral processing plants, and achieved obvious energy saving effect.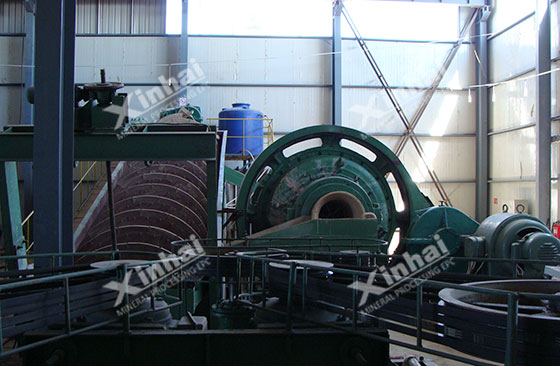 3. Separation
The main fluorite beneficiation processes include gravity separation process and fluorite flotation process.
1) Gravity Separation Process
Application:
High-grade fluorite deposits and 6-20mm particle ore
Features:
Remarkable separation efficiency, simple equipment structure, convenient operation. The main gravity separation equipment in fluorite beneficiation process is the jigging machine, especially diaphragm jig.
2) Flotation process
Application:
Fluorite ore that is associated with impure minerals and the granule of value mineral is so tiny.
Features:
Most plants use xanthate as the collector to float sulfide ore firstly, then float fluorite ore. But using the fatty acids collector in fluorite beneficiation process can achieve better flotation effect. Besides, adding a small amount of sulphide inhibitor to inhibit residual sulfide ore, thus to improve fluorite concentrate grade.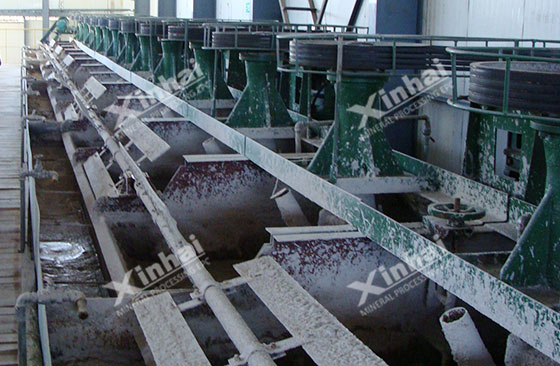 The study shows that the amount of oleic acid needed for fluorite flotation, barite flotation and calcite flotation is different. Fluorite flotation needs maximum oleic acid, whereas, calcite flotation needs minimum oleic acid. When the flotation pulp is neutral, the flotability of fluorite and barite is close. When PH value of pulp is above 10, only the calcite has the best flotation effect; when the pulp is acidic, fluorite has a better flotability than barite, which can realize the fluorite flotation separation between fluorite and barite.
Using the fatty acid as the collector to collect fluorite ore, and sodium silicate as the inhibitor to inhibit quartz in the fluorite beneficiation process. Less amount of sodium silicate will cause worse inhibition effect, but activates fluorite in the fluorite flotation process. However, over sodium silicate will inhibit fluorite flotation. Therefore, the amount of sodium silicate should be controlled appropriately. In order to enhance the inhibitory effect on quartz, some polyvalent metal ions can be added to inhibit quartz and calcite.
Conclusion
These are the three steps of the fluorite beneficiation process. In actual production, the beneficiation process should be determined according to the nature of the ore. You can also consult with manufacturers who have the overall qualification of mineral processing plant to maximize the benefits.
Last: Processing Methods for 4 Common Feldspar