Fluorite Processing Methods and Flowsheet
In this article, we're going to talk about the processing of fluorite ore, we're going to explain it in 4 parts, including:
Fluorite Processing Methods

Quartz-Fluorite Ore Flotation Flowsheet

Carbonate-Fluorite Ore Flotation Flowsheet

Conclusion

Let's get started!
Processing of fluorite ores is the process of separating fluorite concentrate from fluorite ore.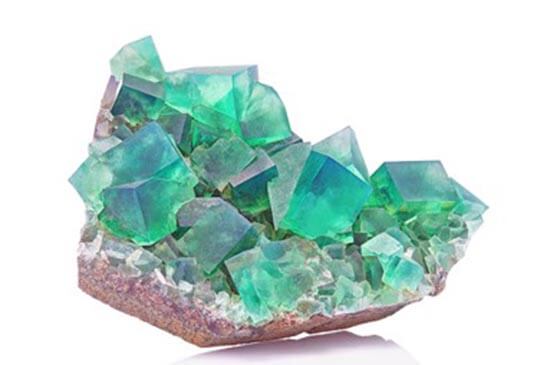 Fluorite, also known as fluorspar, has a chemical composition of CaF2, which is usually symbiotic with quartz, calcite, barite, and clay.
Fluorite is mainly used as a slag-making flux for steel smelting in the metallurgical industry, and the chemical industry uses fluorite to produce hydrofluoric acid and fluoride. Fluorite is also an important raw material for plastics, ceramics, cement and other industries.
In addition to being the main mineral of the deposit itself, fluorite is associated minerals of the metal deposits, especially of the lead and zinc deposits.

Fluorite deposits are divided into three types: quartz-fluorite deposits, carbonate-fluorite deposits, and polymetallic fluorite deposits.
The world's largest fluorite mine is located in Transvaal Province, South Africa.
The quality standard of fluorite concentrate is generally divided into according to its end use.
Metallurgical grade: CaF2≥80%-85%, SiO2≤5%, CaCO3≤4%~5%, PbS≤0.7%;
Ceramic grade: CaF2≥95% , SiO2≤3%, CaCO3≤1.0%, Fe2O3≤0.12%;
Acid grade: CaF2≥97%, SiO2≤1.0%, CaCO3≤1.0%.
Fluorite Processing Methods
The beneficiation methods used in the separation of fluorite are mainly hand-selection, gravity separation and flotation. Among them, the flotation method is the most widely used.
Hand-selection is for the treatment of bulky fluorite with coarse crystals. It can be sorted according to four levels of +200mm, 200~30mm, 30~15mm, 15~0mm, and its use is determined according to the grade of concentrate and impurity content.
Gravity separation is suitable for the production of metallurgical lump ore or as a pre-selection operation for flotation. Usually, raw ore or hand-selection tailings are crushed to below 25-30mm, and then beneficiated after screening and classification.
Fine-grained are separated by jig or shaking table; coarse-grained grades are separated by dense medium separation, and ferrosilicon is often used as aggravating substance. If the ore contains heavy metal minerals such as barite and galena, fluorite should be recovered firstly, otherwise, it will be enriched in the heavy product.
Flotation is mainly used in the production of high-grade concentrates used in the chemical and ceramic industries.
The flotation of fluorite usually uses fatty acids such as oleic acid, oxidized paraffin soap or other soaps as collectors, and is carried out under the conditions of pulp pH 8-10 and pulp temperature above 25°C.
Commonly used pH adjusting agents are sodium carbonate and caustic soda. Gangue inhibitors include water glass, tannins, tannin extracts, sodium lignosulfonate, and quebracho extract. In order to ensure the quality of the concentrate, the number of concentrating should be at least three times.
Quartz-Fluorite Ore Flotation Flowsheet
This process is used for the separation of fluorite ore whose associated impurity minerals are mainly quartz. The crystal size of fluorite is extremely uneven, ranging from a few microns to tens of millimeters, and it is closely symbiotic with quartz. Other impurity minerals include calcite, pyrite, and kaolinite.
This type of ore is easy to separate. Generally, a qualified concentrate can be obtained by multiple concentrating of fatty acid collectors such as oleic acid in an alkaline medium.
Water glass is commonly used as a quartz inhibitor, but the amount should be strictly controlled. When the amount is small, it will activate the fluorite, but if the amount is too much, it will inhibit the fluorite. Also we often add Al3+, Fe2+ and other polyvalent metal cations and alum, aluminum sulfate and other to inhibit calcite.
The process structure is characterized by multi-stage grinding and separation. The choice of regrind location and middling treatment method depends on the ore granularity distribution characteristics and the requirements for the quality of the concentrate.
The flow structure includes coarse concentrate regrinding and middling sequential return; coarse concentrate regrinding and middling processing separately; middling regrinding and centralized returning and middling regrinding and processing separately.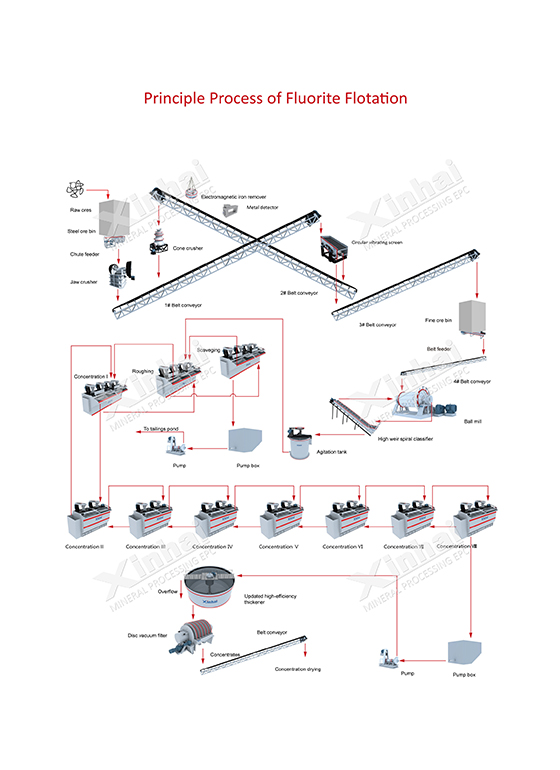 Fluorite processing flowsheet
(If you can't see it clearly, please contact our customer service for the HD one)
Carbonate-Fluorite Ore Flotation Flowsheet
The main associated minerals of this ore are calcite, barite, quartz and so on.
This type of ore is difficult to beneficiate. Because the floatability of fluorite, calcite, and barite is very similar, it often requires an inhibitor with good select ability to effectively separate them.
Commonly used inhibitors are water glass, ammonium bichloride, tannins, tannin extract, sodium lignosulfonate, and quebracho extract. Most of the inhibitors used are two or more combinations.
A typical process is the process flow of the Alcoa concentrator in the United States. This concentrator first used dense-medium separation and flotation to remove the galena, sphalerite and other metal minerals associated with fluorite ore, and then used flotation to produce acid grade fluorite concentrate.
Fluorite flotation was carried out in alkaline medium. They used oleic acid as a collector, sodium carbonate as a pH adjuster, and tannic acid as a calcite inhibitor.
To Wrap Up
The above is the processing of fluorite ore. Besides, we have an article about processing methods for 4 common feldspar, please click the article name to see details. In the actual production, you can refer this article to choose a basic process, but mineral processing test and technicians' advice are necessary too.
If you have any questions about this article or need more details, please contact our online customer service or leave a message below, we'll contact you as soon as possible.
Last: Chrome Mining Processes and Flowsheet