Ultimate Guide of Gold Heap Leaching Process
Gold heap leaching process is a method in which a leaching solution is sprayed with a spray leaching system to selectively leach gold in the ore and recover gold from the pregnant liquid flowing out of the heap during the infiltration process. It is characterized by simple process, easy operation, short process, small floor space, strong adaptability, large or small scale, and low investment. The production cost is low. The disadvantage of this method is that the leaching rate is lower; generally only 60-80% can be recovered.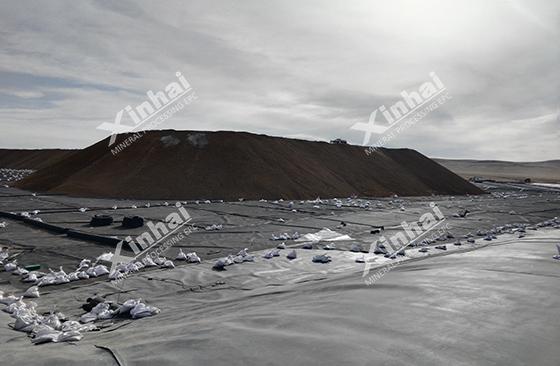 1. Operation of Gold Heap Leaching Process
The Simple Operation of Gold heap leaching process is following:
To crush low-grade gold mines to a certain particle size (or granulation);

Pile them on a leak-proof bottom pad paved with asphalt, concrete or plastic materials, etc;

Spray low-concentration cyanide, alkaline solution, non-toxic solvent or sulfuric acid on the heap to dissolve the gold;

The gold-containing solution is leached from the heap;

To recover gold by adsorption of activated carbon or displacement of zinc powder.
2. Type of Gold Heap Leaching Process
The industrial gold heap leaching process can be divided into two types, one is short-term gold heap leaching and the other is long-term gold heap leaching.
In the short-term gold heap leaching process, the ore is usually crushed to less than 20 mm. When processing gold-bearing quartz veins, it is often crushed to less than 6 mm. The crushed ore heap is leached on a permanent bottom mat, with stack height of generally 3-6 meters, per heap processing volume of 100-10000 tons, and per heap leaching cycle of generally 7-30 days. After a cycle of leaching is completed, the waste is removed from the bottom mat, and then a new batch of crushed gravel is piled up for the next cycle of leaching.
During long-term gold heap leaching method, using open-pit mining of loose and unbroken low-grade ore, which may contain some giant gravel, but most of the feedstock is less than 150 mm, and the capacity is 10,000-2,000,000 tons of ore per heap. The heap is similar to a truncated cone with 6-10-meter height. This heap has a long leaching period of about 4-5 months, which is based on the principle of leaching most of the useful mineral in the heap and may require a leaching period for several years. After the leaching is completed, the waste is piled on the bottom pad.
3. Application of Gold H
eap Leaching Process
Conditions that must be met for ore that is suitable for gold heap leaching process:
Gold and silver can be leached from ore by oxidation;

The particle size of gold must be very fine;

The ore must be able to penetrated by the cyanide solution, which means that the ore either have cracks, or can produce cracks by crushing;

There is small content of clay in the ore, and its permeability can be improved by pelleting;

The ore doesn't contain carbonaceous material capable of adsorbing gold cyanide complex;

Does not contain a large number of compounds that can react with cyanide solution, such as partially oxidized antimony sulfide, zinc sulfide, iron sulfide, copper sulfide and arsenic-containing minerals.
4. Features of Gold Heap Leaching Process
Gold heap leaching process is often used to develop small-sized gold deposits or low-grade ore (1-3 g/t), or those small low-grade gold mines that cannot be developed and utilized by conventional methods.
The gold heap-leaching field has little requirement in terrain conditions, and can be adapted to local conditions. According to the topographical features, permanent unloading yards or superimposed yards are respectively set up. For example, the top of the mountain and the hillside are slower and wider, thus suitable for a permanent unloading yard.
5. Stages of Gold Heap Leaching Process
The stages of gold heap leaching process is as following:
Raw Ore Preparation

Leaching Mat Construction

Ore Stacking

Preparation of Leaching Solution

Spray and Collect Leaching Solution

Pregnant Solution Treatment
Last: Ultimate Guide of Gold Flotation Process