4 Types of Excavators: Which One You Should Choose?
Mechanical single bucket excavators, hydraulic excavators, rope bucket excavators and bucket wheel excavators are several commonly used excavators in the mining industry. Below we will introduce the respective characteristics and application scope of these four excavators, hoping to help you choose the right excavator.
1. Mechanical Single Bucket Excavator (Electric Shovel)
The single-bucket face shovel mechanical crawler electric excavator (electric shovel for short) is a single-bucket excavator that uses transmission parts such as gears, chains, and cable pulleys to transmit power.
Features: Electric shovel is one of the main mining equipment for 10 million-ton open-pit mines. It has many advantages, high productivity, high operating rate, and low operating cost. It is currently a recognized model in the mining industry. However, this type of excavator has been largely replaced by hydraulic drive excavators due to its heavy weight, poor mechanical performance, and inconvenient operation.
Application Range: Electric shovel is suitable for high-intensity operations and is widely used for shoveling operations of various soil and soft and hard ore in metal, non-metallic mines and coal open-pit mines. Besides, it can be used for shoveling and dumping operations in water conservancy, construction and road repair projects. In addition, its working device can be used as a crane with a little modification.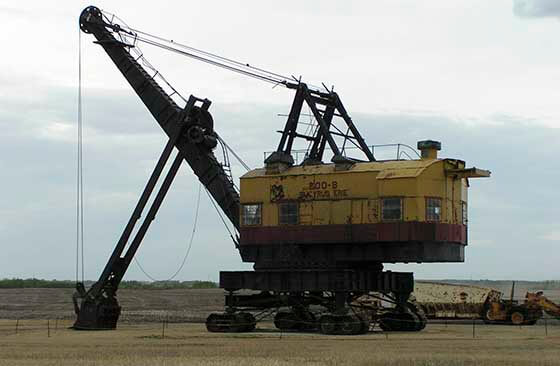 2. Hydraulic Excavator
Hydraulic excavators (referred to as hydraulic shovel) are high-efficiency loading equipment developed on the basis of mechanical drive face shovel excavators. The components and working processes of these two kinds of excavators are basically the same. The main difference lies in the power unit and the working unit. The hydraulic excavator adopts a positive displacement hydraulic transmission system (that is, using various hydraulic components) between the power unit and the working unit, and directly controls the movement state of each system mechanism to carry out excavation work.
Features: Compared with electric shovel, hydraulic shovel is 35%~40% lighter, flexible in action, faster in speed, large in shovel and digging force, stable in operation, safe and reliable, and high in production efficiency. It can realize stepless speed regulation and the speed range is large. The insertion and prying of the bucket can be controlled more accurately, so the shovel can be accurate when necessary.
It has higher production capacity than front-end loaders and can be used in high-stage working surfaces that cannot be reached by front-end loaders. However, hydraulic excavators have high requirements for the manufacturing accuracy of hydraulic components, strict assembly requirements, and difficult maintenance, and the viscosity of the working oil is greatly affected by temperature.
Application Range: The hydraulic excavator has a wide range of applications. It can be equipped with a variety of different working devices to carry out various forms of earth or stone shoveling work. In open-pit mining, the single bucket excavator can be used for topsoil stripping, mineral mining and loading work. In addition, it is also widely used in construction, railway, highway, water conservancy and military projects.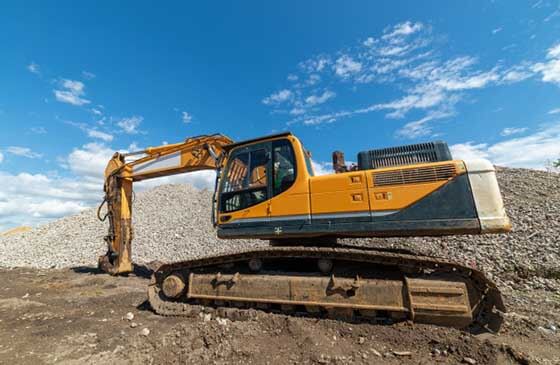 3. Rope Bucket Excavator
The rope bucket excavator is a single-bucket excavator in which the steel rope suspension bucket is thrown into the working surface, and then the bucket is pulled to the fuselage to excavate the rock and soil. The digging depth is 0.5-0.6 times the length of the cantilever. Most of rope bucket excavator is stepping type, and the bucket capacity is mostly 4-30m³.
Application range: Because the working device of the rope bucket excavator is to load materials with a wire rope to pull the bucket backwards (also called a dragline), the shoveling force is small, so it is mainly used for excavation of coal mines and soft soils, such as dredging rivers, construction of river embankments, surface layer stripping and dumping operations of open-pit mines, etc. It is especially suitable for wet and muddy areas and underwater excavation where open-air scrapers and bulldozers cannot operate, and can be used to build high rock piles. In addition, the rope bucket excavator can also be easily converted into a hoisting crane.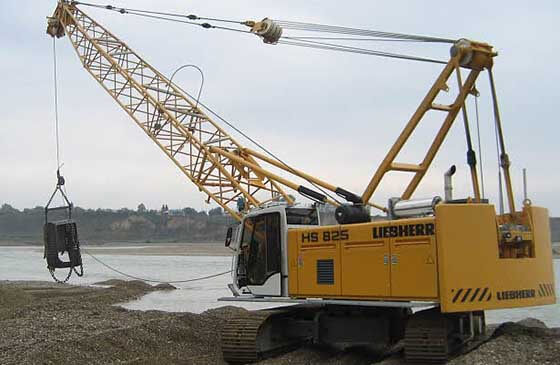 4. Bucket Wheel Excavator
Bucket wheel excavator is a kind of multi-bucket excavator that uses multiple buckets mounted on the front end of the boom to excavate continuously. In recent years, it has been used more and more.
Features: Compared with a single bucket excavator, it has the following main advantages:
The bucket wheel excavator continuously excavates and transports and reloads, the production efficiency is high. Under the same power equipment conditions, its productivity is 1.5-2.5 times higher than that of a single bucket excavator.

Because the bucket wheel machine is used for continuous excavation, the load on the machine body is smaller and the working conditions are improved. Therefore, under the same productivity conditions, the overall weight of the excavator is only 50% -60% of the single bucket excavator. In addition, the wear of parts is reduced, and the service life of the machine is prolonged.

The power consumption of bucket wheel excavators is less than that of single bucket excavators. For example, the power consumed by digging 1 m³ of soil is 0.5-0.7kW for single-bucket excavators and 0.3-0.5kW for bucket-wheel excavators.
Application range:Bucket wheel is especially suitable for high-efficiency mining operations in large open-pit mines. However, bucket wheel excavators have relatively small digging power and are only suitable for excavating materials such as soil and soft ore. For large ore piles and operation sites with more complicated working conditions, its overall adaptability is poor. In addition, the selection of bucket wheel excavators also depends on the burial conditions, geological conditions and climatic conditions of the deposit.
At present, it is mainly used in stripping topsoil in open-pit mines, digging useful minerals, dumping, loading vehicles or conveyor belts, etc. In addition, it is gradually becoming more and more widely used in mixing yards, storage yards, large-scale water conservancy and earthmoving projects.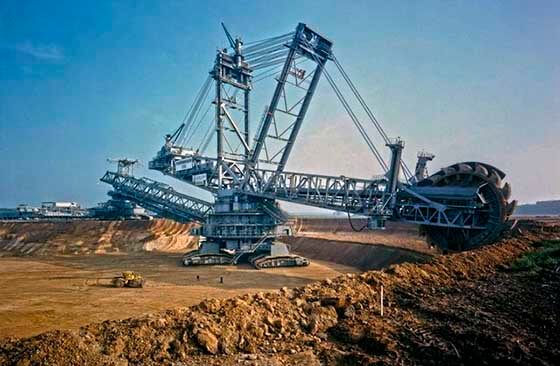 To Wrap Up
The above are the characteristics and application scope of mechanical single bucket face shovel excavators, hydraulic excavators, rope bucket excavators and bucket wheel excavators.
If you need to choose an excavator suitable for your project, you can refer to the above aspects, leave a message directly or consult online customer service, and there will be experts to make the most suitable choice for you.
Last: How Does Excavator Classified?