How Does Excavator Classified?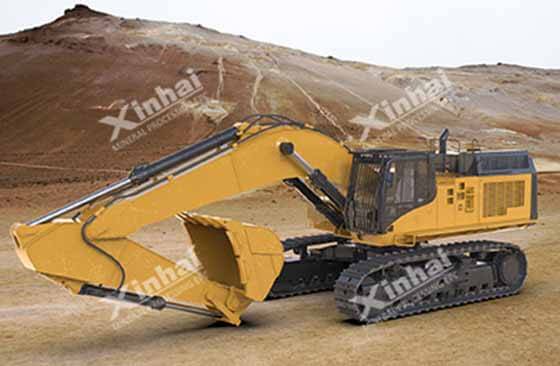 There are many types of excavators with different classification methods. Below we will introduce the six classification methods of excavators, and the scope of application of different types of excavators, hoping to help you choose the right excavator.
1. Classified by Purpose
Excavators can generally be divided into general-purpose and special-purpose types.
General-purpose single-bucket excavators are used in open-pit mines, engineering construction, urban construction, transportation and water conservancy projects, and are called universal excavators or construction excavators.
Special-purpose single-bucket excavators have 3 different types, including mining type, stripping type and tunnel type.
Mining excavators are mostly front shovel excavators. Single bucket excavators for stripping have a relatively large working size and bucket capacity, which are suitable for open pits and topsoil stripping work. Excavators for tunnels can be divided into short boom type and telescopic boom type, are used for slag removal during tunnel excavation.
2. Classified by Working Device
According to the working principle of the working device and the connection between the bucket and the boom, excavators can be divided into two categories:
The rigid connection includes front shovel, backhoe, planer and scraper.
Flexible connection includes dragline, grab shovel, etc, such flexible connections are used for other purposes such as pile drivers, hooks, and root pullers.
The front shovel is more commonly used in mines, because it has a greater pushing force during excavation, which can dig solid hard soil and load blasted ore. The pushing force or the force of cutting the soil of the drag bucket mainly depends on the dead-weight of the bucket, it is only suitable for digging in softer soil and sandy soil.
The flexibility of the working device refers to the degree of rotation of the working platform of the excavator. According to this flexibility, the platform of the single bucket excavator has a full-rotation type (that is, 360° rotation) and an incomplete rotation type (that is, 90-270° rotation).
3. Classified by Transmission Mode
Excavators are divided into three types: full hydraulic transmission, mechanical transmission and hybrid transmission.
Excavators with hydraulic transmission are referred to as hydraulic shovel; excavators with electric drive and mechanical transmission are referred to as electric shovel; excavators with diesel engine and drive mechanical transmission are referred to as diesel shovel.
4. Classified by Power Plant
The power unit of the single bucket excavator has three modes: internal combustion drive (mainly diesel engine), electric drive and compound drive.
If the excavator has only one prime mover to drive the movement of the various mechanisms, it is called a single drive. Several engines drive the movement of various mechanisms called multi-engine drive. In the compound drive, there are diesel engine and electric drive, diesel engine and hydraulic drive and so on.
5. Classified by Running and Supporting Devices
1) Railway running and supporting devices.
Excavators equipped with railway operation and supporting devices are divided into three types: narrow gauge, standard gauge and special gauge (that is, running along 3 or 4 rails).
2) Tire running and supporting device.
It can be divided into standard car chassis, special car chassis, wheeled tractor chassis and special tire chassis running device. Excavators with tire running and supporting devices are mainly used in urban construction and other sectors.
3) Crawler running and supporting device.
This kind of device can be divided into four types: rigid multi-pivot and rigid less-pivot, flexible multi-pivot and flexible less-pivot. Excavators with bucket capacity greater than 1m³ are multi-purpose crawler operating devices, and crawler excavators are mainly used in open-pit mining projects;
4) Stepping running device.
This device can be divided into eccentric wheel type, hinge type, slider type and hydraulic type. Stepping (also known as walking type) excavators are mainly used in work sites and stripping operations where the ground pressure is very small, such as soft soil and swamps. Some large sand quarries also use this type of excavator with a stepping device.
6. C

lassified by Bucket Capacity
The bucket capacity of a single bucket excavator can be divided into four categories: small, medium, large and huge.
Small excavators are below 5 tons, with the mainstream models with 1.5 to 1.8 tons. The main users are municipal engineering, afforestation and sewage disposal, and interior renovation and transformation of certain large buildings.
Medium excavators are below 15 tons with the mainstream models with 5 to 8 tons. They are mainly used in municipal, trenching, construction in the factory, gardens and other working conditions that require meticulous operation.
15 to 35 tons are large-sized excavators, and 20 to 25 tons are the mainstream models, which are also the most widely used of all models. Except for restricted site conditions (such as indoors), it can be used in almost all conditions, municipal, earthwork, road repair, mining, wasteland reclamation, etc.
Huge excavators are above 35 tons. Choose the model according to bucket capacity requirements, the larger the tonnage, the larger the bucket. Generally used in large-scale earthwork and open-pit mining conditions.
To Wrap Up
The above are the classifications of excavators. If you need to choose an excavator suitable for your project, you can refer to the above aspects, or leave a message or consult online customer service, and experts will make the most suitable choice for you.
Last: 2 Underground Gold Mining Method