Tipper Truck Price
Tipper trucks are commonly used equipment in the mining industry, and they are also relatively expensive in mining operations. When purchasing, we should consider the model and price of the equipment to buy the equipment that is most suitable for our mining plant.
Before knowing about the price of tipper trucks, we should first understand the different models and parameters of tipper trucks, and then study the prices of equipment with different models and parameters.
1. How to Select A Tipper Truck Model
Before choosing a tipper truck, you need to understand the applicable conditions of automobile transportation, so as not to buy a tipper truck but it is not suitable for your own mine.
The automobile transportation suits you when:
1) The ore deposits should be scattered;
2) The elevation difference of the hillside open-pit mine or the depth of the sag open-pit mine is about 100-200m, and the ore body occurrence conditions and topographical conditions are complicated;
3) There are many kinds of ore, which need to be mined and transported separately;
4) The transportation distance of the ore is less than 3km, and when large vehicles are used; it should be less than 5km;
5) Using steep slope mining;
6) Using a joint transportation plan with belt conveyors.
In addition, there are some basic principles for selection to be referred:
1) In order to give full play to the overall efficiency of dump trucks and excavators, the ratio of the dump truck compartment capacity to the excavator bucket capacity is generally one truck should carry 4-6 buckets, and the maximum should not exceed 7-8 buckets.
2) In order to give full play to the economic benefits of automobile transportation, for mines with large annual transportation volumes and short transportation distances, trucks with heavy loads should generally be selected, and vice versa, trucks with small loads should be selected.
Please refer to this article for specific selection principles: How to choose a tipper truck.
2. Basic Parameters of Commonly Used Tipper Truck
The following are the parameters of several small and medium-sized dump trucks and a large dump truck, mainly including conveying capacity, horsepower, size and weight, etc. You can refer to it to choose the model that suits your mine.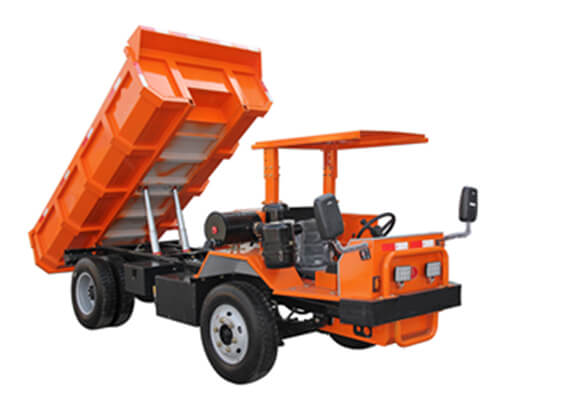 Parameters of Small and Medium Tipper Trucks
| | | | |
| --- | --- | --- | --- |
| Capacity(m³) | Motorpower(kW) | Size(L×W×H mm) | Weight(t) |
| 2.2 | 46 | 4550×630×1450 | 3.5 |
| 4.3 | 81 | 5350×1770×1750 | 4.5 |
| 5.2 | 90 | 4920×2150×1750 | 4.8 |
| 6.3 | 118 | 5800×2250×1990 | 5.5 |
| 7.4 | 118 | 6400×2230×2050 | 6.2 |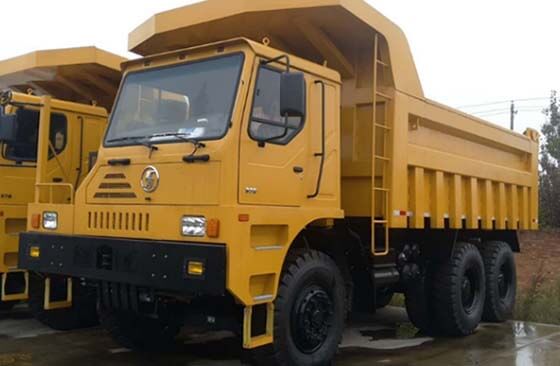 Large Tipper Truck Parameters
| | |
| --- | --- |
| Drive form | 6×4 |
| Curb weight(kg) | 23000 |
| Capacity(t) | 60 |
| Dimension(L×W×H)(mm) | 8760×3255×3950 |
| Max. speed (km/h) | 46 |
| Minimum ground clearance(mm) | 380 |
| Max grade ability (%) | ≥40 |
| Wheel base(mm) | 3750+1560 |
| Axle number | 3 |
| Cab | Offset mining cab |
| Engine brand | Weichai |
| Engine model | WD12G375E211 |
| Engine power | 375hp/276kw |
| Torque(N.m r. p. m) | 1500/1300-1500 |
| Emission Standard | E-II |
| Gearbox | FAST 10JSD180K-B,10 Forward&2Reverse |
| Front axle | Peng Xiang 12T |
| Rear axle | Peng Xiang 25T×2 |
| Frame(mm) | Dual layer(10+8) |
| Tank capacity(L) | 380L Iron |
| Tire | 14.00-24 |
| Inner dimension of loading space(mm) | 5600×3000×1500 |
| Material thickness of loading(mm) | Bottom14mm,Side10mm,16Mn,Fixed thickness 10mm of front plate |
| Lifting mode | Front lifting |
3. Tipper Truck Price
Tipper truck is one of the relatively large mining equipment, and the price is relatively expensive.
In terms of costs, not only the purchase price of the new car must be considered, but also the operating costs after production, warranty costs, and spare parts prices.
Some countries implement the total cost bidding method when purchasing equipment, that is, not only the purchase price, but also the maximum guaranteed limit of maintenance and repair costs, and even the minimum guaranteed price when the car is resold a few years later, are all regarded as bids content.
In addition, models with the same purpose will vary greatly in price due to different configurations. Manufacturers will have high-end models and low-end models in a single market segment to meet the needs of different customers.
Generally speaking, high-end models are much higher than lower-end models in terms of comfort, power, carrying capacity and safety. Therefore, try to choose high-end models within your budget, because the residual value of the car will be higher.
The price of dump trucks varies from 60,000 US dollars to 1.6 million US dollars depending on the model, but this price is for reference only. In the actual purchase, you also need to consider the above content for multiple considerations.
4. To Wrap Up
The above are the various types of tipper trucks and their approximate prices. When purchasing a tipper truck, we need to refer to many aspects to choose the most suitable equipment. When buying, you can refer to Xinhai Mining Technology and Equipment Inc., Chin. It is a company that specializes in mining and beneficiation equipment. It is professional in the production and selection of tipper trucks and can choose the most suitable equipment for you.
If you have any questions about the content of this article, or want to buy a tipper truck, please contact the online customer service to communicate, or leave a message on the website, we will talk to you in detail as soon as possible.
Last: How to Choose a Tipper Truck?