Introduction of Titled Plate Thickener?
Titled plate thickener is a common thickening equipment used in the mineral processing, which mainly used in the clarification and concentration of flotation tailings, and the slurry separation and dehydration. Here are the detailed introduction of feature and working principle of titled plate thickener.

Features of Titled Plate Thickener
The main feature of titled plate thickener is a small area. Its unique design of vertebral body saves a lot of space for the plant.

In addition, the inner center of titled plate thickener is equipped with stirring device, and the outside wall of cone bucket zone is equipped with a vibrator, which can accelerate the thickening of floccules and prevent the pulp congestion.

What's more, the tilted plates installed in thickener are good for large equipment and reducing the height which improve capacity by 2-3 times. There is three to eight times processing capacity than that of traction thickener.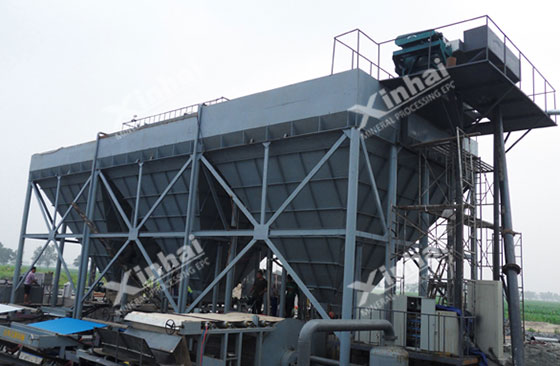 Working Principle of Titled Plate Thickener
The working principle of titled plate thickener is to make the settlement area on the available bottom area reaches the maximum by means of the parallel inclined sheet. In this way, the clarification requirements can be better matched with the dense requirements, then reduce the size and cost of the gravity settling equipment to a minimum.
Titled plate thickener is mainly made up of two box body, the upper body contains slope 55° inclined thin plate, the lower box body contains conical or cylindrical slime bucket.
The slurry enters the thickener from one side of the upper box, then enters the gap of the inclined plate through the slot of the side of the module. The slurry clarification is finished in the inclined plate above the inlet position, so the clarifying liquid will not mix with the slurry.
An overflow channel with full length is set on the top of each set of inclined plates, and there is a nodal port on the channel, which can cause hydraulic back-pressure of the feed flow. This feed control method can ensure that the slurry uniformly enters the settlement chamber of each sheet, and reduce the slurry turbulence at the feed inlet to the maximum, so that the solid particles first settle on the inclined plate, then slide along the inclined plate to the slurry bucket for further thickening.
Conclusion
The above are features and working principle of titled plate thickener. In the production practice, the thickener operator should know the operating items of titled plate thickener, and keep regular maintenance according to the specific problem, ensuring the safe and stable operation of the thickener.
Last: What Are the Differences Between Wet Ball Mill and Dry Ball Mill?
Next: What is Ball Mill?