4 Reasons and Solutions of Poor Gold Leaching Effect
There are many types of gold ores in nature, most of which are embedded with other metal mineral impurities. If the gold ore is still difficult to be successfully leached after being finely ground, the gold ore is called refractory gold. Generally, the grade of Au in the tailings is greater than 0.5g/t.
The gold in this type of ore, either physically wrapped or chemically combined, cannot be in contact with the cyanide solution, so it is difficult to be leached. So what are the reasons for the low leaching rate of gold ore? What are the solutions?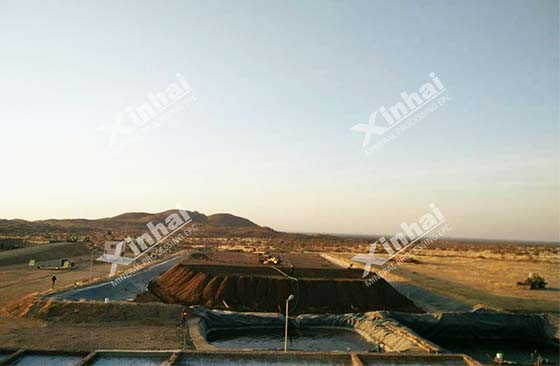 Reason#1: There are a lot of pyrite, pyrrhotite and marcasite in gold ore
These minerals are associated minerals that consume oxygen, alkali and cyanide. In the cyanidation process, they are easily oxidized and decomposed to produce sulfuric acid, ferrous sulfate, ferric subsulfate, ferric thiosulfate, etc. The decomposed substance reacts with cyanide or alkali, so that a large amount of oxides, cyanide and alkali are dissolved before gold dissolves, thereby hindering gold leaching.
Solution
For this kind of problems, the method of pre-aerated alkali leaching is often used. That is, before the leaching of slurry, oxygen is filled in an alkaline medium while stirring, so that these minerals have enough time to be oxidized and hydrolyzed, so that they can be converted into ferric hydroxide which can't be dissolved by cyanide. And then add cyanide to effectively dissolve the gold.
Reason#2: There are minerals such as carbon or graphite in gold ore
Some gold ores have active organic carbon or graphite, etc. Because the carbon contained in the ore has considerable activity, the phenomenon of "carbonaceous gold robbing" will occur during the leaching process. They will adsorb the dissolved gold and then precipitate it again, thereby reducing the gold leaching rate.
Solution
According to the carbon content of these kind of ores, physical and chemical mineral processing methods can be used.
Physical mineral processing method: When the carbon content is high, it can be separated by flotation after adding oil. When the carbon content is relatively low, due to the hydrophobicity of the surface of carbon minerals, an appropriate amount of organic matter (such as kerosene or coal tar) can be added before leaching to "passivate" carbon minerals in advance, so that they can generate films on the surface that can inhibit their adsorption of dissolved gold, weaken their gold absorption capacity, and eliminate the impact of carbon on gold leaching.
Chemical mineral processing method: The carbon can be oxidized by adding sodium hypochlorite in alkaline medium at 50~60℃ under stirring condition. Or using roasting method to oxidize carbon into carbon monoxide and carbon dioxide gas and escape, and then carry out gold cyanidation process.
Reason #3: There are cyanide-consuming minerals such as copper and zinc in gold ore
Some gold ores are accompanied by copper and zinc minerals, such as malachite, azurite, pyrocopper and sphalerite (especially oxidized sphalerite), etc., which have high solubility in cyanide solution. While leaching gold, they will "compete" with gold for cyanide and oxygen, thus hindering the dissolution of gold and reducing the cyanidation efficiency.
Solution
For this kind of gold ore, different methods should be adopted according to the content of copper and zinc. When the content of soluble copper and zinc in the gold ore is small, the amount of oxide can be increased when the consumption of cyanide does not cause economic loss. But it should be noted that it should be operated at a low temperature and a low cyanide concentration. Because the dissolution rate of similar minerals will increase with increasing temperature and cyanide concentration.
In the production process, it is necessary to use the method of subsection (tank) dosing to ensure the appropriate cyanide concentration in each tank to control the dissolution rate of the impurity mineral. Note that at the same time as gold recovery, try to reduce cyanide consumption.
When the content of copper and zinc minerals in gold is high (> 0.3%), if the increased cyanide consumption is too high, but no economic loss is caused, flotation method can be used to separate part of qualified copper and zinc concentrate, then flotation tailings, and then extract gold by cyanidation.
Reason#4: There are minerals such as arsenian pyrites and arsenopyrite in gold ore
Some gold ores are associated with arsenian pyrites, arsenopyrite and other minerals. These minerals are mostly wrapped with gold minerals. Therefore, during cyanide leaching process, it is difficult for the cyanide solution to contact with gold mineral, so the gold leaching rate is often low.
Solution
After reaching a certain degree of monomer dissociation, for gold ores with low arsenic content, aqueous solution oxidation, aqueous chlorination, bacterial oxidation, etc. can be used. For the gold ore or concentrate with high arsenic content and high gold grade, the roasting method is mostly used. The roasting process includes oxidation roasting and solidification roasting. The aim is to expose the wrapped gold sufficiently to increase the gold cyanide leaching rate.
Conclusion
In addition to the above associated minerals that consume oxygen, alkali and cyanide, the impurity minerals containing antimony, selenium and the fine particles enclosed by gangue also affect the leaching of gold. In order to effectively improve the cyanidation leaching rate of gold-bearing ores, it is recommended to do gold ore dressing test first. According to the ore properties, analyze the influencing factors specifically to determine the appropriate ore dressing method to improve the gold leaching rate.
Last: 3 Methods of Tailings Processing