4 Common Barite Beneficiation Methods
This is a complete guide for barite beneficiation methods.

So if you are looking for: How to separate barite?
Then you will love this article.
Let's get started.
Generally, the choice of barite beneficiation method is affected by factors such as ore type, raw ore properties, mine scale, and use. At present, the commonly used barite beneficiation methods mainly include hand sorting, gravity separation, flotation, magnetic separation and combined process.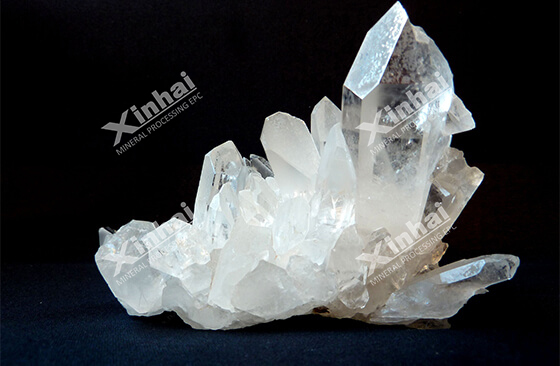 1. Barite Hand Sorting Method
After the mining of raw ore, simple hand sorting is a commonly used method in many small mines. Due to the high grade and stable quality of some mines, qualified barite products can be selected by hand according to the differences in color and density of barite and associated minerals. The rich barite ore is selected by hand sorting method, which requires the particle size of 30 to 150 mm and the BaSO4 content greater than 95%. On the whole, the hand sorting method is simple and easy, and it can be carried out without mineral processing equipment, but the productivity is low, resulting in serious waste of resources.
2. Barite Gravity Separation Process
Barite gravity separation process is mainly based on the density difference between barite and associated minerals, including ore washing, screening, de-sliming, jigging and other processes, which are mostly used to process eluvial barite ore. Good quality barite concentrate can be obtained through washing, screening, classifying, de-sliming, jigging, shaking table and other processes, and the product grade can reach more than 88%.
When the disseminated grain size of barite is greater than 2mm, heavy medium separation and jig separation can usually be used. However, the upper limit of ore particle size for heavy media separation is 50mm. and the upper limit of ore particle size for wet and dry jig separation is about 20mm. When the particle size of barite ore is less than 2mm, the shaking table can be used for separation. But before the separation operation, the hydrocyclone must be used to remove the mud to improve the separation effect.
3. Barite Flotation Process
Barite flotation process is mainly based on the difference of physical and chemical properties of barite and associated minerals. It is commonly used in eluvial barite ore and hydrothermal barite ore associated with sulfide ore and fluorite. For the separation of fine-grained ores and gravity separation tailings, flotation process must be used. There are two kinds of commonly used flotation processes: positive flotation process and reverse flotation process. The purpose of the reverse flotation process is to remove alkali sulfides.
4. Barite Magnetic Separation Process
Barite magnetic separation method is mainly based on the surface magnetic difference between barite and iron oxide minerals. It is often used to separate the barite ores containing iron minerals such as siderite. Magnetic separation is often used in combination with gravity separation to produce barite as a raw material for barium-based medicines requiring very low iron content.
Conclusion
The barite ore mined in the early stage are mostly high-grade ores, usually using low cost and low-tech hand sorting method or gravity separation process. However, with the low-grade and the complexity of barite ore, magnetic separation, flotation and combined separation methods have been widely used in the separation of barite ore. It is recommended that the mine owners formulate the scientific and reasonable beneficiation process based on the processing test report to avoid unnecessary economic losses.
Last: How To Extract Gold From Sand?
Next: Application of Hydrocyclone in the Classification and Concentration Process