Common Silica Sand Processing Equipment
Silica sand is a kind of material widely used in glass, ceramics, metallurgy, machinery, electronics and other industries. Usually in the use of silica stone or silica sand ore to produce high purity silica sand, ore more or less doped with some impurities, the industry is often used to wash, acid leaching, desilting, reseparation, flotation and other methods to purify silica sand. In this paper, the silica sand purification equipment used in silica sand production line is briefly introduced.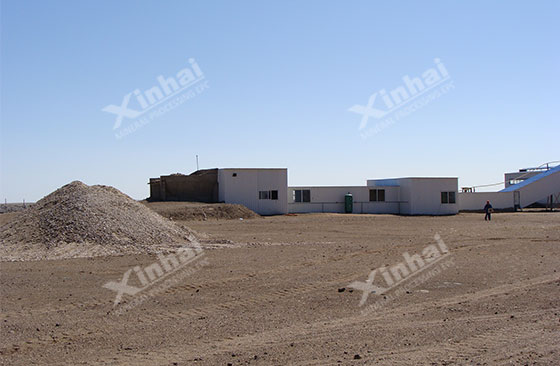 Water washing is a common purification process in the production of silica sand, especially for silica sand ore, usually mixed with a large amount of soil, which not only affects the purity of silica sand, but also has a great impact on subsequent magnetic separation, flotation, acid leaching and other operations. The desilting bucket is a kind of silica sand purification equipment commonly used in the water washing process. Silica is a kind of chemically stable raw material, which hardly reacts with other strong acids except HF. Therefore, the strong acid leaching process can be used to remove some impurities in the acid leaching tank. In some production processes, spiral chute is also a kind of silica purification equipment. Materials of different density, particle size and shape have different motion state in water. Spiral chute USES this property to remove some impurities. Flotation is also a common means of silica sand purification, the use of silica sand and impurity surface hydrophobicity is different, in the slurry to add a certain amount of flotation agents, through the means of reverse flotation to remove impurities. Silica sand purification equipment commonly used for flotation are mechanical stirring flotation machine, pneumatic mechanical stirring flotation machine, micro-bubble - swirl flotation column.
Wet magnetic separator for silica sand is divided into weak magnetic separator, medium magnetic separator and strong magnetic separator according to the strength of magnetic field. It can also be divided into dry (air) and wet (water) magnetic separators according to the working medium.
Generally, the wet magnetic separator is mainly applicable to magnetite, pyrrhotite, calcined ore, ilmenite and other materials with a particle size of less than 3mm, and can also be used to remove iron from non-metallic minerals, building materials and other materials.
Silica sand is an important non-metallic mineral, which is mainly made of silica after crushing and processing. Silica sand is a very hard, wear-resistant, insoluble in acid, slightly soluble in alkali solution of chemical properties and stable silicate minerals. And silica sand belt separation structure is used in wet magnetic separator in the whole work area from feed to discharge, the material under the drive of belt, can be many times for material magnetic stirring, at the same time under the influence of water washing, remove without magnetic tailings, with magnetic minerals by belt conveyor to the board to take off the magnetic separator, which will be a magnetic mineral through magnetic device off, to complete the separation process. Silica sand wet magnetic separator with small power, large processing, high magnetic field strength, and achieve good quality, can get greater benefits.
Silica sand wet magnetic separator adopts double roller collocation method on processing, more efficient, sorting the granularity of the smaller has simple structure, large quantity, the advantages of convenient operation, easy maintenance, such as strong good binocular optional mineral: manganese ore, limonite, goethite, limonite and siderite cerium, chromite, niobium, tantalum, iron ore, titanium ore, monazite, sulfur, manganese ore, psilomelane, pyrolusite and rhodochrosite, wolframite, titanium rutile, itabirite iron ore, apatite, yttrium phosphorus ore, olivine germanium ore, sulfur, copper, iron, dolomite, fluorocarbon cerium, lanthanum ore, biotite, epidote, garnet, niobium yttrium mining, hauling and nonmetal iron, etc. Silica sand wet magnetic separator magnetic block using rubidium boron and other materials, magnetic stability does not demagnetization. Usually use ten years will not demagnetization phenomenon, but should pay attention to is not used in high temperature conditions, high temperature is easy to demagnetization.
According to the nature of raw ore and impurities, silica sand purification process is also different, in addition to the above equipment, some processing plants will also be various types of silica sand purification equipment.
Last: Slurry Treatment and Flotation Reagent Selection of Non-sulphide Mineral Flotation