3 Separation Methods for Wolframite Concentrating
After the wolframite is separated by gravity separation, its crude concentrate often contains scheelite, cassiterite, molybdenite, bismuthite, pyrite, chalcopyrite, sphalerite and other minerals. Cassiterite and bismuthite are more enriched in high-grade coarse concentrate.
These associated minerals are harmful impurities for tungsten concentrates, but there are also many useful minerals, especially nonferrous metals with high value like tin, molybdenum, bismuth, copper, and zinc, and some ores contain rare metals such as tantalum and niobium. So tungsten coarse concentrate must be concentrated.
The wolframite coarse concentrate concentrating operation is generally an intermittent operation, and the coarse concentrate needs to be dried before separation.
The Principle Process of the Concentrating of Wolframite
The coarse concentrate is divided into three parts according to its particle size and grade.
The jigging coarse concentrate is crushed to less than 5mm by roller crushers, and screened into three levels of -5+2, -2+0.83, and -0.83mm, then these concentrate are separated by single-disk and three-disk magnetic separators to obtain high-quality wolframite concentrate. .
Magnetic separation tailings contain scheelite and bismuth minerals would be processed separately.
After classfying the coarse concentrate from shaking table, the -2~0.18mm particle size will be first processed with table flotation to get bismuth, then get sulfur and arsenic. Then use magnetic separation of table flotation concentrate to make wolframite, scheelite and bismuth oxide ore separated to obtain the final wolframite concentrate.
Tungsten fine mud coarse concentrate (including -0.18mm shaking table concentrate) uses flotation to preferentially flotate bismuth sulfide, then flotate sulfide ore, and then flotate bismuth oxide.
After the flotation of sulfur, the concentrate is processed with a spring shaking table to obtain the shaking table concentrate and tungsten secondary concentrate, and the spring shaking table concentrate is sent to magnetic separation to separate wolframite, scheelite and bismuth minerals.
For the tailings of various products separated from the magnetic separation operation, we implement table flotation, use oleic acid and diesel as collectors to obtain scheelite concentrate and bismuth concentrate.
1. Dry Magnetic Separation
The coarse-grained grade is magnetically separated by a dry magnetic separator to separate cassiterite, scheelite, sulfide ore, etc., to obtain qualified wolframite concentrate.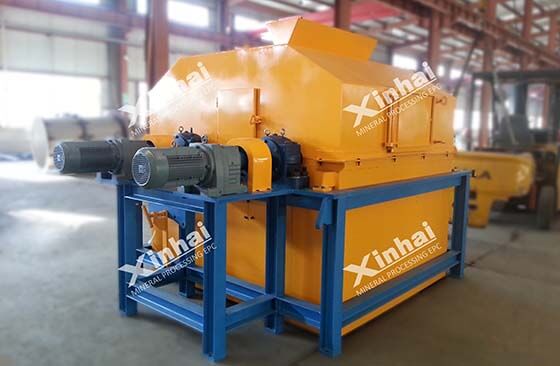 Dry Magnetic Separator
Dry magnetic separators are divided into single-disc or multi-disc magnetic separators. Single-disc dry magnetic separators are commonly used in tungsten mines. The processing particle size of the disc dry magnetic separator is 0.074-3mm, and the processing capacity is related to the particle size of the ore.
The disc dry magnetic separator is fed from bottom with strong selectivity and can obtain relatively pure tungsten concentrate, but the tailings contain much tungsten, which requires multiple times of scavenging.
The feed of the disc magnetic separator needs to be classified before the separation, the narrower the particle size, the better the magnetic separation effect.
2. Table Flotation
The table flotation process is an important separation method for wolframite.
It is a method of simultaneous gravity separation and flotation on the same equipment (shaking table).
Table flotation realizes the flotation separation of easy flotation sulfide and other minerals under the condition of coarse particles, and minerals of different specific gravity can also be separated on the bed surface. The applicable particle size range of the table flotation method is -3+0.2mm.
Features of Table Flotation:
1) The combination of gravity separation and flotation can obtain a better separation effect, simplify the process flow and improve production efficiency;
2) It can process coarse-grained materials (up to 3mm), saves the cost of grinding, and avoids the phenomenon of over crushing of useful minerals during regrind;
3) The equipment is easy to operate and the process is adaptable. Some concentrators also use table floatation to separate scheelite, fluorite ore, apatite, etc.

Table of Table Flotation
(1-11 are the table line of different angels)
The table flotation operation requires flotation reagents, and the dosing is to stir for a long time under high-concentration conditions. Generally, horizontal drum agitation tank is used.
3. Electric Separation
In addition to wolframite, the wolframite concentrate also contains scheelite, cassiterite, and sulfide.
In addition to removing sulfide by table floatation and separating wolframite by magnetic separation, electrical separation can be used to separate scheelite and cassiterite, the resulting product is tin concentrate.
For tungsten concentrates containing rare earths, electric separation can also be used to obtain rare earth by-products.
For example, wolframite sometimes contains xenotime, which is a kind of rare earth ore with high value. More importantly, xenotime is also magnetic, and it is difficult to separate it from wolframite during the magnetic separation process.
The existence of xenotime affects the purity of wolframite on the one hand, and on the other hand without recovering that, the resources cannot realize comprehensive recycling and utilization.
Fortunately, wolframite conducts electricity, so electrical separation has become a common method for separating wolframite and xenotime.
In the gravity separation of wolframite, a more feasible method for separating xenotime is to first magnetically separate wolframite and other non-magnetic minerals, and then uses electrical separation to separate wolframite and xenotime.
In addition, some mines first use electrical separation to separate wolframite and other non-conductive minerals in the processing of wolframite fine mud, and then use flotation to process and separate xenotime and scheelite from other minerals.
To Sum Up
In actual beneficiation, you can refer to the above-mentioned focus points to select suitable equipment for the concentrating of wolframite, but the guidance of professional beneficiation technicians and beneficiation tests are also necessary.
Besides, we have Four Tungsten Ore Processing Technologies and 5 Points of Wolframite Processing, welcome to check.
If you have any questions about the above content, please leave a message on the website or communicate directly with online customer service.
Last: 5 Points of Wolframite Processing
Next: Hazards of Mineral Processing Wastewater in Flotation Plant