Daily Maintenance and Cleaning of Flotation Cell
Flotation cell plays a big role in the beneficiation plant. In daily work, improper use or maintenance will cause wear or other problems on the flotation machine. This will not only affect work efficiency, but also increase costs. Therefore, it is very important to maintain and clean the flotation cell and eliminate hidden dangers.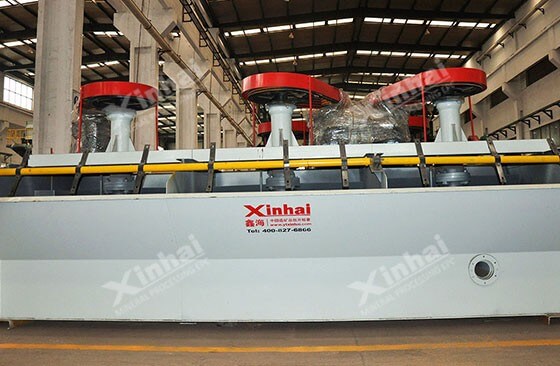 1. Daily Maintenance of Flotation Cell
It is required that the on-duty personnel must understand the structure and performance of the flotation cells and the function, specification and name of each component, and be familiar with the equipment status, so as to facilitate the implementation of maintenance and overhaul procedures.
The examination content includes:
Check whether the bolts between each part are loose or abnormal, the tension of the triangular belt, whether the belt safety cover is complete and firm, and whether the scraper parts are in good condition. If any problem is found, the on-duty personnel should deal with it in time.

Check whether the motor is overheating, whether the motor bearing temperature exceeds the standard value, and whether the temperature rise of the scraper bearing exceeds 25℃.

Check the clearance between stator and rotor, main bearing, transmission belt and rotor fixings.

Check, when the impeller wear diameter more than 10%, or have holes, cracks, should be replaced in time.

Check whether the foaming rate of the scraping mechanism decreases, when the scraping mechanism appears vibration or oscillation, it is necessary to timely check whether the transmission bearing is cracked and whether the coupling is off.

Check air intake of flotation machine.

Check the condition of each lubrication point to confirm whether the lubricating oil is sufficient.

Check whether the drawing valve and the box are straight, and whether the tank is leaking.

Check blower inlet and exhaust pressure, bearing temperature and motor current changes, as well as observe fan vibration and noise.
2. Daily Cleaning of Flotation Cell
The daily cleaning of the flotation machine is one of the main measures to determine the working capacity, working period of the flotation machine and to keep the main components working normally.
The equipment must be kept clean, no ash accumulated in the operation room or machine room, and the parts, materials and tools should be kept in order. All oil spills should be cleaned up in time.

Must be cleaned by shift, once a week.

All platforms shall be cleaned in time and no ash shall be accumulated.
Conclusion
The above introduces the daily maintenance and cleaning of the flotation machine. The maintenance personnel of the flotation machine must work in accordance with the above requirements to ensure the normal operation of the flotation machine. Or you can consult the professional flotation machine manufacturer for more maintenance and cleaning specifications of the flotation cell.
Last: Comparison of Peripheral Transmission Thickener and Center Driving Thickener